Realwheels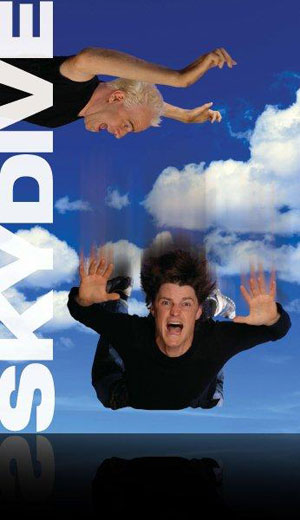 James Sanders and Bob Frazer in Skydive.
Professional theatre company that creates and produces works about disability experiences as part of the human landscape, founded in 2003 in Vancouver British Columbia by James Sanders and Bob Frazer. James Sanders became quadriplegic from a spinal cord injury during his third semester at Simon Frazer University in 1990, but completed his Bachelor of Fine Arts in 1998 after a year of rehabilitation, determined to disrupt assumptions about the limitations of disabled persons.
In 2007, Kevin Kerr created Skydive for Realwheels, the story of two brothers (played by Sanders and Frazer), who recall childhood experiences and adult phobias while freefalling. One is physically disabled but mentally healthy, the other physically abled but emotionally crippled. The play "weaves together the imagery and images of falling (with just the right dose of some well-chosen '80s classic rock for a soundtrack) to take us on a hilarious and wildly clever ride through shared memory and the crazy world of dreams" (Bob Clark, Calgary Herald 18 Oct 2008). Directed by Roy Surette and Stephen Drover, it played in six theatres across the country, including Arts Club Theatre, Belfy Theatre, Theatre Calgary, Centaur Theatre, and National Arts Centre as part of the Magnetic North Theatre Festival. Skydive received three Jessie Richardson Awards -- for best direction, sound design, and production.
In 2009, Kevin Kerr worked with James Sanders and the BFA graduating class at the University of Alberta to create Spine for Realwheels. It premiered in February 2010 at the Studio Theatre (dir. Bob Frazer), and then at the Cultural Olympiad in Vancouver in March.
In 2017, Realwheels' production of Creeps by David Freeman won three Jessie Richardson Awards, including for outstanding production by a small theatre. It was the first Canadian theatre to involve disabled actors in the production.
In 2018, RealWheels produced Sequence by Arun Lakra with a fully integrated cast.
The current Artistic Director is Tomas Mureika.
Website: www.realwheels.ca
Profile by Anne Nothof, Athabasca University
Last updated 2021-08-24