Carousel Theatre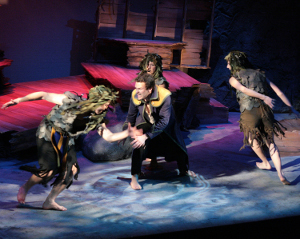 Carousel Theatre's Production of The Odyssey adapted by John Murrell, April 2007, The Waterfront Theatre. Featuring Jackson Andrews, Tobias Slezak, Teryl Rothery, and Samantha Madely. Photo by Tim Matheson.
Carousel Theatre (also known as Carousel Theatre for Young People) was formed in 1974 in Vancouver British Columbia. The Company's mission is "dedicated to inspiring, enlightening and entertaining young people and their families through accessible theatrical experiences that develop audiences and artists." The CTYP originally gained popularity and critical acclaim for its unique modern dress Shakespeare adaptations. More recently, Carousel Theatre has focused on adaptations of classical stories, as well as new works by Canadian playwrights for its touring program. The founding Artistic Director was Elizabeth Ball (1974-2001), followed by Carole Higgins (2001-2020).
Throughout its history, Carousel Theatre has developed and premiered many new scripts for the Canadian theatre for young audiences canon, including Dying to be Thin by Linda A. Carson, A Christmas Carol - the Musical by Mavor Moore, Alice: A Wonderland by Roy Surette and Sandra Head, Basically Good Kids by Mark Leiren-Young, Suddenly Shakespeare by Kim Selody, and the 2009 world première of Pierre Berton's novel The Secret World of Og, commissioned by Carousel Theatre and written by Governor General Award-winning playwright Kevin Kerr.
In its early years, the company performed at several different venues in Vancouver including the Arts Club Theatre Seymour Street and the Vancouver East Cultural Centre before moving to Granville Island, where Carousel Theatre operates a small arts complex that includes administrative offices (hosting Pi Theatre and Theatre Conspiracy) and two rehearsal halls. Carousel is one of the long-term resident tenants at the Waterfront Theatre on Granville Island.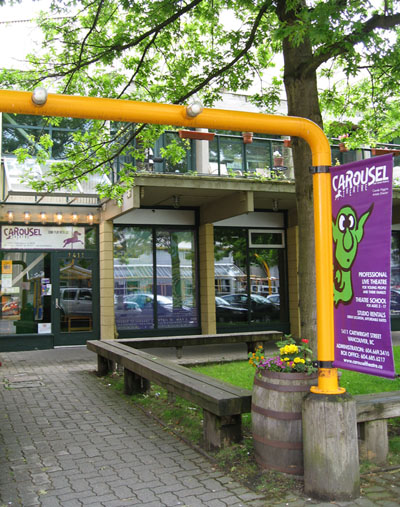 Carousel Theatre. Photo by Jessie van Rijn
Carousel Theatre produces a main stage season of Literary Classics at the Waterfront Theatre, an Elementary School Touring Program that brings theatre directly to students, a Teen Shakespeare Program each summer and a year-round Theatre School for young people ages 3 to 17 years, a mentorship program for fledgling theatre for young audiences companies, and a new play development program. Carousel Theatre plays a unique role in the theatre ecology of the Vancouver community, and is the only theatre company in British Columbia that stages a fully professional season of main stage programming for young people.
Carousel Theatre and its artists have been honoured with many Jessie Richardson Theatre Awards, and recently won the 2006/2007 Jessie for Outstanding Production for Theatre for Young Audiences for its production of John Murrell's adaptation of The Odyssey.
Website: www.carouseltheatre.ca
Last updated 2020-07-09