Pi Theatre
Pi Theatre was founded as Pink Ink Theatre Productions Association in Vancouver British Columbia by German émigré Sandhano Schultze in 1984. The company quickly established a reputation for ambitious shows with innovative designs and high production values. Its mission is to produce and present bold and uncompromising plays that explore modern life; to connect audiences with theatre that is intellectually alive and emotionally charged.
In the 1990s, Pink Ink was influential in bringing the French-Canadian canon to the attention of Vancouver artists and audiences. Production highlights include the first production of Polygraph outside the auspices of Robert LePage's own company (co-produced with Théâtre la Seizième); an acclaimed production of Michel Marc Bouchard's Lilies (Les Feluettes) (co-produced with Touchstone Theatre and the Arts Club Theatre); and the premiere of Katherine Schlemmer's Disposing of the Dead (co-produced with Axis Theatre Company).
In 1991, Pi Theatre joined the Professional Association of Canadian Theatres/PACT, becoming a signatory to the Canadian Theatre Agreement.
In 1998, Del Surjik was appointed Artistic Director, when Schultze relocated to Northern Light Theatre in Edmonton. Under Surjik's tenure, Pi continued its community leadership role as a major force in See Seven, a marketing and shared-resource initiative for independent theatre in Vancouver. The focus on French-Canadian plays in English translation and cutting edge works from the contemporary world stage was supplemented by the exploration of staging techniques that bridge the gap between audience and performance. Surjik also changed the company's name to its acronym, Pi. Standout productions include Eric Goulem's The Lonely Cowboy, Enda Walsh's Disco Pigs, and three West Coast premieres of the work of Carole Fréchette (as translated by John Murrell): Élisa's Skin (invited to the Magnetic North Theatre Festival in 2005), Helen's Necklace, and John and Beatrice. In 2008, Del Surjik stepped down to take the position of Artistic Director for Persephone Theatre in Saskatoon.
In 2008, Pi welcomed Richard Wolfe as its third and current Artistic Director.
The company is now building a vision that puts the role of the authorial voice at the centre of its activities and programming choices. The highly regarded Canadian premiere of after the quake in the 1990s introduced audiences to the distinct voice of Japanese author Haruki Murakami. In 2013, Pi presented Mark O'Rowe's Terminus to rave reviews, eight Jessie Award nominations and three wins. This was followed by the world premiere of Pi's first playwright-in-residence Sean Devine's Except in the Unlikely Event of War, which was nominated for three awards.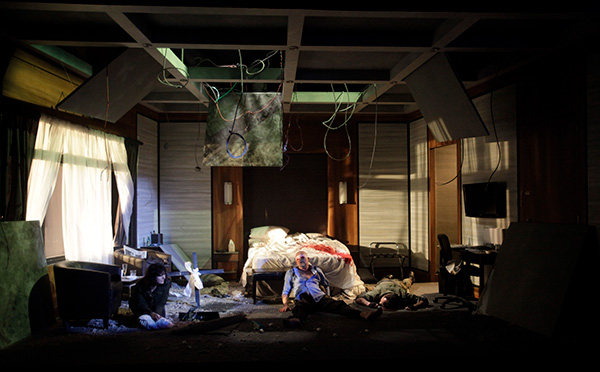 Blasted by Sarah Kane, 2015, with Michael Kopsa, Cherise Clarke and Raresh DiMofte. Photo by Tim Matheson.
Pi celebrated its 30th anniversary in the 2014-2015 season with a tour to Victoria of Pi's site-specific presentation of Jordi Mand's Between the Sheets, and the second Canadian English-language professional production of Sarah Kane's Blasted, which was nominated for eight Jessie Awards, and won three, including Outstanding Direction.
In April, 2016, Vancouver's The Cultch presented Pi Theatre's Canadian premiere production of Pulitzer Prize winning playwright Ayad Akhtar's The Invisible Hand, a powerful, disturbing consideration of the social and personal consequences of financial power and manipulation in the context of the abduction of an American financier in Pakistan.
In January 2018, Pi produced Scottish playwright David Greig's The Events at the PuSh International Performing Arts Festival. The play interrogates the reasons for mass murder by focusing on the interaction of a murderer and a woman priest. She is one of the few survivors of an attack on a church full of immigrants, suggested by a local amateur choir which performs at the beginning of the play.
Since the company's inception, Pi has received 33 Jessie Richardson Awards and 103 nominations for outstanding artistic achievement in Vancouver professional theatre.
website: www.pitheatre.com
Last updated 2018-03-02