Young, Jonathon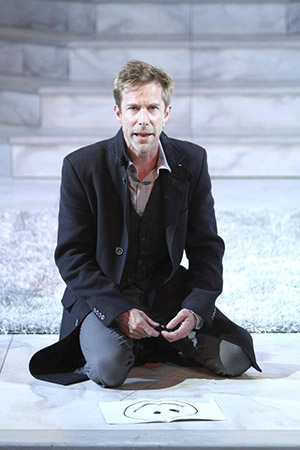 Jonathon Young as Hamlet, Bard on the Beach, Vancouver BC
Director, playwright, actor, based in Vancouver British Columbia and Toronto. Jonathan Young is a co-founder of Electric Company Theatre, with Kim Collier, Kevin Kerr, and David Hudgins in 1996. He was born in Richmond Ontario in 1973, and grew up in Vernon, BC. He studied theatre at Studio 58, Langara College, where he met Collier and Kerr.
With Electric Company, Jonathon Young has collaboratively created over twenty original productions including: Tear the Curtain! (a film/theatre hybrid for Arts Club Theatre and Canadian Stage); No Exit (a re-working of Jean-Paul Sartre's play performed in San Francisco at the American Conservatory Theatre); and Studies in Motion (Vancouver Playhouse, Citadel Theatre, Theatre Calgary, and Canadian Stage).
In 2015 he was commissioned by Nederlands Dans Theatre to write The Statement, a one-act play directed by dancer/choreographer Crystal Pite. The play was performed at New York City Centre in November 2016.
With Crystal Pite, he created Betroffenheit (Electric Company Theatre and Kidd Pivot, Pan-Am Games 2015), a dance/theatre hybrid which expresses his anguish over the death of his and Collier's fourteen-year-old daughter, niece and nephew in a 2009 cabin fire at Shuswap Lake BC. Betroffenheit moves through a physical and vocal expression of trauma, loss, grief, addiction, and recovery. The soundscape – a voice mélange spoken by Young - is by Owen Belton, Alessandro Juliani, and Meg Roe. The production has toured across Canada, in London England (where it won an Olivier Award in 2015), in Belgrade, Dublin, Seattle, Barcelona, Perth, Adelaide (2017), Paris, Amsterdam, Taipei, and Wellington, then into northern Europe.
Young and Pite's next collaboration, Revisor (2019), was inspired by Russian director Vsevolod Meyerhold's 1926 bizarre theatrical interpretation of Gogol's novel, The Government Inspector which satirizes political corruption. Young performs the text with eight dancers from Pite's company, Kidd Pivot, and a soundscape of words spoken by nine actors (designed by Belton, Juliani and Roe).
Roe has compared Young to Fred Astaire: "The way he moves, he's magnetic. It's like he's dancing all the time, but you never see it. You feel like it's so fluid and gorgeous and organic that you never disbelieve it but it's always this incredibly thoughtful efficient economic way of moving. And I think that's one of his amazing things; the way he uses this body and his natural charms and his courage." (quoted in Marsha Lederman, Globe & Mail 11 May 2013).
Jonathon Young also works across Canada as an actor. Vancouver productions include: Romeo and Juliet (Vancouver Playhouse Theatre Company 2003, with Meg Roe); Trout Stanley, Tear the Curtain!, Intimate Apparel, Doubt, All the Way Home, The Waiting Room (Arts Club Theatre), Hamlet (Bard on the Beach, 2013, dir. Kim Collier). In Toronto, he performed in the Canadian Stage production of Melissa James Gibson's This (2013), and in All but Gone (Necessary Angel). For Theatre Calgary, he performed the role of Nick in The Great Gatsby (dir. Collier). In 2020, he played Doctor Frankenstein in Morris Panych's Frankenstein Revived, which premiered at the Stratford Festival.
Television projects include Detective Hyde on Impastor and four seasons on Sanctuary as Nikola Tesla.
He has been nominated for a UK National Dance Award and is the recipient of several Jessie Richardson Awards for his acting and writing.
Source: Electric Company Theatre website
Profile by Anne Nothof, Athabasca University.
Last updated 2021-10-01