Juliani, Alessandro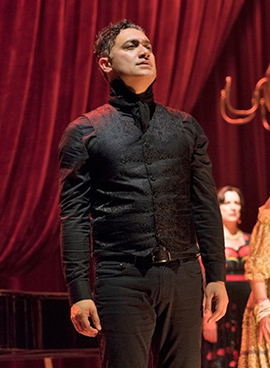 Alessandro Juliani in Onegin, Arts Club Theatre. David Cooper photo.
Born in Vancouver in 1975, Alessandro Juliani ("AJ") is a stage, TV and film actor, singer, composer and sound designer. A graduate of McGill University in Vocal/Opera Performance, he is the son of the late John Juliani.
As a stage actor, AJ has had multiple Shakespeare roles at Bard On The Beach (Macbeth, Twelfth Night, A Midsummer Night's Dream, Falstaff, and Henry V, appearing in the title role); the National Arts Centre (Hamlet); and Orlando Festival (As You Like It, Romeo and Juliet). He reprised Romeo in the 2003 Vancouver Playhouse production opposite Meg Roe's Juliet. Other credits include The Violet Hour (Belfry Theatre), Metamorphoses (Citadel Theatre), and Haruki Murukami's After the Quake (Pi Theatre/ Rumble Theatre). In 2016, he won a Jessie Richardson Award for the Lead Role in Onegin (Arts Club Theatre), reaffirming his training and talent as an opera singer previously displayed in The Marriage of Figaro (title role - Chan Centre), Britten's Curlew River (Festival Vancouver), and Albert Herring (Aldeburgh - Britten/Pears Festival, UK).
For music composition and sound design in theatre in the period 2003-18, AJ received seven Jessie awards (Twelfth Night - Bard On The Beach; Skydive - Realwheels (with Meg Roe)); The Tempest - Bard On The Beach; The Miracle Worker - Vancouver Playhouse; Saint Joan - Arts Club; Angels in America Millennium Approaches, and Part Two: Perestroika - Arts Club (with Torquil Campbell)). His related sound design experience is extensive, particularly at Bard On The Beach (e.g., A Midsummer Night's Dream, Othello,Hamlet, The Merry Wives of Windsor, Coriolanus,); and at major Canadian theatre companies including Shaw Festival (Trifles, The Lady From The Sea, Middletown); Stratford Festival (To Kill A Mockingbird); National Arts Centre (King Lear); Arts Club (e.g., Saint Joan, Master Class, The Penelopiad); and notably the international choreography productions of Crystal Pite/Jonathon Young Tempest Replica, Betroffenheit and Revisor (Kidd Pivot/Electric Company Theatre with Meg Roe and Owen Belton). He has also designed music and sound for productions at Centaur Theatre, Gateway Theatre, Vancouver Playhouse, Western Canada Theatre Company, ACT San Francisco, and composed the musical score for film (e.g., Kyle Rideout's Wait for Rain; Ann Marie Fleming's Big Trees [NFB]).
AJ is a prominent actor in TV and film, perhaps best known as Lt. Felix Gaeta in Battlestar Galactica. Other TV credits include Riese, Alice, Smallville, Girlfriends' Guide to Divorce; The 100, and most recently Chilling Adventures of Sabrina. Films have included Reaper, Traveling, Watchmen, Elegy, Chaos Theory,Human Target, Riverworld, Alice, Love Happens, Man of Steel, and War for the Planet of the Apes. He is also an animation voice actor (e.g., the anime series Death Note, plus many others) and narrator of audio books (e.g., a serialization of Robert J. Sawyer's Rollback for CBC Radio).
AJ's partner is Meg Roe, with whom he has two daughters and a son.
Last updated 2019-09-12