Roy, Anusree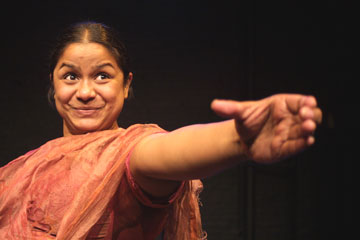 Anusree Roy in Pyaasa
Playwright, actor, and director, born in Kolkata, India in 1982, and immigrated to Canada with her family in 1999 when she was seventeen. Anusree Roy graduated from York University in 2006 with a B.A., and from the Graduate Centre for Study of Drama at the University of Toronto with an M.A. She is currently based in Toronto Ontario.
She performed in her first play, a solo piece titled breathlessness for Tarragon Theatre's 2006 Spring Arts Fair and for Hart House's Diaspora Dialogues in January 2007.
Pyaasa (Theatre Passe Muraille 2007) won two Dora Mavor Moore Awards for Outstanding New Play in the independent category, and for Outstanding Performance for Roy's portrayal of the play's four characters. Set in Kolkata, Pyaasa (meaning "thirsty" in Hindi) portrays the injustices of the caste system in India through the life of 11-year-old Chaya, the daughter of an "untouchable" toilet cleaner, who lives in extreme poverty with her family under a bridge, but yearns to attend school. Each of the other three characters represents another caste. Roy reprised the role for TPM in 2016.
Letters to my Grandma (Theatre Passe Muraille 2008) was inspired by her grandmother's life and her own immigration. It is set in Toronto in 2000 and in 1947 India, the year of partition from Pakistan.
Roshni (meaning "hope" in Hindi) premiered at Theatre Passe Muraille in 2010 (dir. Thomas Morgan-Jones). It portrays the impoverished lives and stubborn hope of child beggars at Kolkata's Howrah train station through portraits of two children, a blind girl played by Roy, and a boy aspiring to Bollywood stardom by Byron Abalos.
In 2011 Roy won the Carol Bolt Award for Playwrights for her play, Brothel #9 (Factory Theatre, dir. Nigel Shawn Williams), which also won the Dora Award for Outstanding New Play. It portrays the horrific life of women trapped in the sex trade in Calcutta, and Roy was again critically acclaimed for her acting.
Sultans of the Street opened at the Young People's Theatre in 2014 (dir. Nina Lee Aquino). Set in contemporary Kolkata, India, the play focuses on two pairs of urban children: Brothers Prakash and Ojha are from an affluent family and play hooky from school to fly their kites; orphans Mala and her brother Chun Chun live on the street and dream of going to school. They are dressed as Indian gods to beg for money that their aunt confiscates.
In April 2017, her play Little Pretty and the Exceptional premiered at Factory Theatre (dir. Brendan Healy). It is set in a Sari shop in Toronto's Little India, run by an Indian immigrant and his two daughters: Jasmeet dreams about being a prom queen, and Simran is studying to be a lawyer. Simran struggles with anxiety and emotional problems, however, as a consequence of her mother's death a decade earlier. The play exposes "the taboo around mental health issues in the South-Asian community, and the power of familial ties in the face of adversity" (Factory Theatre website).
Sister tells the story of Millie and Rai, who have recently immigrated to Toronto from India with their father. "Set over the course of one evening at Tatos Laundromat in New Toronto, the sisters fantasize about what they will order at Tim Hortons, getting a cell phone, and how exciting their new life will be – as soon as their dad lands his first job. Their daydreaming is cut short when an event occurs at the laundromat, threatening not only their sense of security, but their ability to withhold secrets from each other" (Factory Theatre website). Sisters was produced as an audio podcast in March 2021, when theatres across Canada and around the world were closed by the Covid-19 pandemic.
Roy's operas Noor over Afghan and The Golden Boy premiered at Opera Briefs in Toronto in 2011.
Roy was a performer in the Dora nominated 9 Parts of Desire and Necessary Angel's Tout Comme Elle. In 2016, she played the Queen of France in Breath of Kings at the Stratford Festival. For the 2017 Stratford season, she played an hilarious, energetic Dorine in Tartuffe, and Snake in The School for Scandal.
She was playwright-in-residence at the Canadian Stage in 2008-09, at Theatre Passe Muraille in 2009-10, and the Blyth Festival (2010-11).
She is also co-artistic director of Theatre Jones Roy.
Pyaasa, Letters to My Grandma, and Sultans of the Street are published by Playwrights Canada Press.
Profile by Anne Nothof, Athabasca University.
Last updated 2021-09-13