Healy, Brendan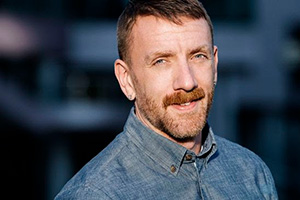 Brendan Healy
Actor, director, born in Montreal in 1976, and currently based in Toronto Ontario. He began his career as an actor in Peter Hinton's production of Greg MacArthur's Girls! Girls! Girls! (Festival TransAmériques 2001).
He is a graduate of the National Theatre School of Canada's Directing Program, and he has trained extensively with Anne Bogart and the SITI Company, one of the pioneers of the American avant-garde. After interning as a director with Richard Maxwell's company, the New York City Players, he moved back to Toronto, and has directed works across Canada, including: Jean Genet's The Maids, Nina Arsenault's The Silicone Diaries, Sarah Kane's Blasted, Martin Crimp's Fewer Emergencies, Wallace Shawn's A Thought in Three Parts, and Daniel MacIvor's Arigato, Tokyo (2013). In July 2013, he directed Joe Orton's Entertaining Mr. Sloan at Soulpepper Theatre Company.
He was an associate artist at Crow's Theatre. From 2009 to 2015, he was Artistic Director of Buddies in Bad Times, where he worked with young creators interested in a collectivist approach to produce content-driven work, grounded in ideas. After leaving Buddies, he pursued a Masters degree in International Arts Management.
Healy was appointed Artistic Director of Magnetic North Theatre Festival in 2017, shortly before the Festival was terminated, due to financial exigencies. He then worked for the City of Brampton as Artistic Director, Performing Arts, with four municipal arts venues in music, dance, and theatre, as well as educational outreach.
In July, 2018, he was appointed Artistic Director of Canadian Stage, and directed a production of Every Brilliant Thing by Duncan MacMillan (starring Kristen Thomson) at the Berkeley Street Theatre.
His productions have won multiple Dora Mavor Moore Awards. He is a recipient of the Ken McDougall and the Pauline McGibbon awards for directing.
He is a regular instructor at the National Theatre School of Canada.
Last updated 2019-03-19