Thomson, Kristen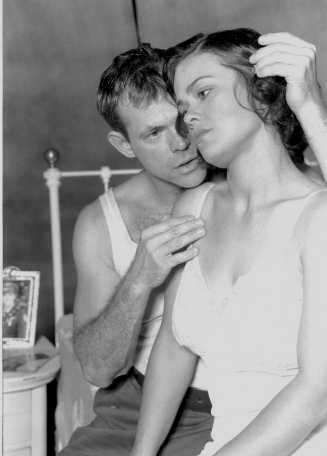 Ontario-based actor and playwright, born in 1966. She studied at University College in Toronto and at the National Theatre School of Canada. She is a gifted, natural actor, and highly-regarded playwright.
Although she has performed extensively across the country in a wide variety of roles, critical and audience reaction to her performance in George F. Walker's Problem Child(Factory Theatre 1998, dir. Walker) as an ex-prostitute/junkie trying to get her child back from the system was particularly enthusiastic.
Among the companies where Kristen Thomson has performed are Nightwood (Quartet); Grand Theatre, London (Great Expectations); Theatre Passe Muraille (The Little Years); Piggery Theatre (Lend me a Tenor); Canadian Stage (Oleanna and Every Brilliant Thing); Centaur Theatre (La Bête); Manitoba Theatre Centre; National Arts Centre (Dancing at Lughnasa); and Porte Parole (The Watershed).
Kristen Thomson has also appeared in the David Hare play Skylight at Citadel Theatre (February, 1999), as Stella in the Soulpepper Theatre Company production of A Streetcar Named Desire (directed by Diana Leblanc, July, 1999), in The Memory of Water at the Elgin and Winter Garden Theatre Centre (February, 2000), in Hysteria at Canadian Stage (October, 2000), and for Soulpepper, again, as Yelena in Uncle Vanya (August, 2001).
She is the recipient of four Dora Mavor Moore Awards, two ACTRA Awards, two Canadian comedy Awards, and a Gemini.
She has also performed extensively on television and in film. She won the Genie Award for Best Performance by an Actress in a Supporting Role in the movie Away From Her.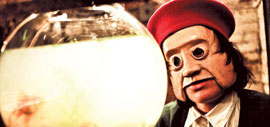 Kristen Thomson as Claudia
Her first play, I, Claudia has enjoyed huge success across the country since its debut at the Tarragon Theatre in April 2001, revived February, 2002; subsequently performed at the Belfry Theatre, Theatre Network, Alberta Theatre Projects, the Young Centre for the Performing Arts (2009), at the Edinburgh Festival (2010), and in Hungary. Using masks, Thomson brings to life the story of an adolescent girl, aged twelve and three-quarters, as she attempts to deal with her parents' divorce, her father's new "friend", puberty, unpopularity, and a science fair project coming due. The play is set in the furnace room in basement of her private school, where she finds some refuge. Three other seminal characters in her life are also realized through masks: her beloved grandfather; her confidant, the school janitor; and the detested future step-mother. I, Claudia won 2001 Dora Mavor Awards for outstanding new play and outstanding performance by a female in a principal role. It was adapted as a movie in 2004, and is published by Playwrights Canada Press.
Thomson's second play, The Patient Hour (Tarragon Theatre 2009) is set in a hospital, where a brother and a sister who is recently released from prison, visit their dying mother, and attempt to come to terms with their own desperate feelings of mortality. A third visitor, a young woman with her own personal tragedy, takes some unexpected comfort from the visit, and a nurse attempts to keep a dispassionate distance from both the patient and her son. In locating the imagined mother's bed in the theatre auditorium, Thomson unsettles the relationship of characters and audience, and also provides an unsettling conclusion. It premiered in French at Théâtre de la Manufacture with the title Attend Moi (2011).
In 2011-12, she was Playwright-in-Residence at Crow's Theatre, where she developed Someone Else, which examines the limitations and possibilities of middle-aged marriage. It was premiered by Crow's Theatre in a co-production with Canadian Stage at Berkeley St. Theatre in January 2013 (dir. Chris Abraham). The Wedding Party, a farcical depiction of mismatched families at a wedding, with six actors, including Thomson, in multiple roles, was co-produced by Crow's and Talk is Free in 2017.
Profile by Gaetan Charlebois and Anne Nothof. Information provided by Patricia Rodriguez; additional information provided by Pierre Karch and Christopher Hoile.
Last updated 2018-12-04