Vigil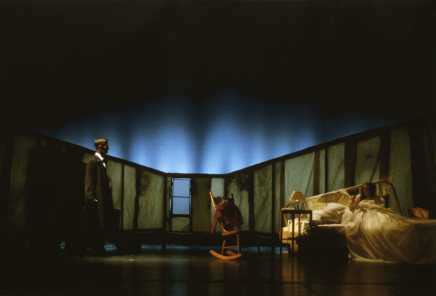 Nakai Theatre
's October, 2000, production of
Vigil
with Brian Fiddler and Bronwyn Jones, designed by David Skelton, directed by Michael Clark
Black comedy in two acts by Morris Panych, premiered at the Belfry Theatre in Victoria, British Columbia, in October, 1995, directed by the playwright, featuring Margaret Barton and Alan Williams. Subsequently played across the country including at Centaur Theatre and Alberta Theatre Projects and in the United States (Washington DC's Studio Theatre, autumn, 2000). It was also was presented at the River Run Centre, Guleph, Ontario, directed by Martha Henry (November, 2000).
Panych explains the genesis of this play with this anecdote: "I was visiting this friend in the hospital...I passed a room where this old woman...was lying on her side as some volunteer stood over her shouting, 'Your nephew says hello, dear. He's sorry he can't make it.' She listed a bunch of other relatives who couldn't be there for various reasons. I couldn't see the woman's face, but as I walked away I heard the volunteer say, 'Would you like me to wipe your tears dear?'" After having suffered through the death of several collaborators, Panych decided to write a comedy about the rituals and hypocrisy surrounding death.
Not everyone's cup of tea, this is a riotously funny but bleak two hander which features a maladroit misanthrope and his aunt. The man has come to hold vigil in what he thought would be her last hours. The hours turn into days, months, seasons and years. He becomes tired of the waiting and creates marvelous machines to aid her on her road (read: kill her) which all harm him instead. The aunt speaks nearly not at all. While he takes care of her, the nephew raves on about his hideously sad/funny life, his job, the neighbours, death, the seasons, holidays and the strange lady across the street who sits at her window all day. Then there is a surprise.
Not losing the tone of surreal cartoon which colours the work, Panych then guides his characters toward an inevitable and compassionate ending. All the while, the dialogue is sparkling and the turns of phrase intelligent and organic.
Commentary by Gaetan Charlebois. Additional information provided by Christopher Hoile.
Last updated 2011-04-04