Pleiades Theatre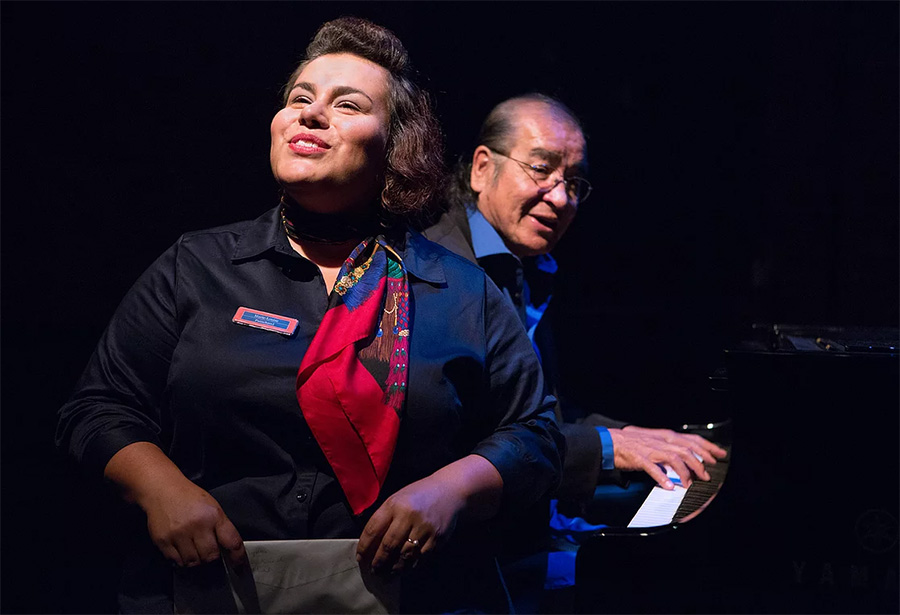 The (Post) Mistress, 2016, with Patricia Cano and Tomson Highway. Photo by Cylla Von Tiedemann.
Theatre company based in Toronto Ontario, founded in 1997 by John Van Burek, who was Artistic Director for 22 years. Its mandate is to produce outstanding works of international and Canadian theatre that celebrate diverse cultures through innovative productions in English and French.
Pleiades Theatre also engages and supports youth and new Canadians through educational outreach in both English and French through a program entitled "Speak the Speech!"
Productions include: La Sagouine by Antonine Maillet, translated by Luis de Cespedes (2010); Shakuntala by Kalidasa, adapted by Charles Roy based on a translation by Will Johnson, with Anita Majumdar in the title role (2009); Hosanna by Michel Tremblay, translated by John Van Burek and Bill Glassco (2006); The Seven Days of Simon Labrosse by Carole Fréchette, translated by John Murrell (2005, a joint production with the Montreal Young Company, in honour of the late Bill Glassco); Heart of a Dog by Mikhaïl Bulgakov, translated and adapted by Anne Nenarokoff, in an English-French co-production with Théâtre français de Toronto (2003, world premiere in English); Marcel Pursued by the Hounds by Michel Tremblay, translated by Van Burek and Glassco (1997, in co-production with Tarragon Theatre, world premiere in English).
In October 2016, the theatre co-produced The (Post) Mistress by Tomson Highway in English and French with Théâtre Français de Toronto (dir. John van Burek, with set by Teresa Przybylski). Patricia Cano performed and sang, Highway accompanied on the piano. In her review, Karen Fricker enthused about the production: "Along with great songs and a winning performance, what's delivered here is a celebration of Francophone Northern Ontario, and the place in it of Native cultures, languages, and spirituality" (thestar.com 17 Oct 16).
Since 1997 the Artistic Producer is Andrey Tarasiuk.
Website: www.pleiadestheatre.org.
Last updated 2021-08-20