Przybylski, Teresa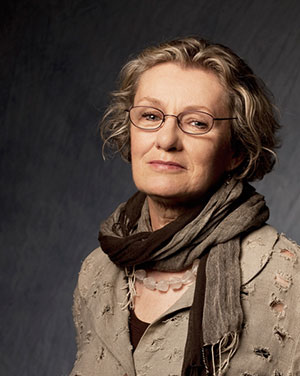 Teresa Przybylski
Scenographer, born in Poland, and resident in Toronto Ontario. She has a Masters degree in Engineering and Architecture from the Technical University of Krakow, and an MFA in Scenography from the Fine Arts Academy, Krakow. Since 2001 she has been a Professor in the Department of Theatre at York University. She is a member of the Royal Canadian Academy of Arts, the Associated Designers of Canada and a Board Member of The Toronto Arts Council.
After emigrating to Canada from Germany with her family, she opened a studio in Toronto in 1988, and since then has worked in theatre, opera, film, and dance across Canada and the U.S.
Among the many companies for which she has designed are: Theatre Smith-Gilmour (The Cry is Not So 1990); Arbor Theatre (Fire 1992, The Bootlegger Blues 1993); Native Earth Performing Arts; Necessary Angel; Nightwood Theatre (The Wonder Quartet 1992, Mango Chutney 1996, Harlem Duet 1997); Young People's Theatre (resident designer 1992-92); Tarragon Theatre (Scorched 2007, Infinity 2015); Buddies in Bad Times (Hedda Gabler); Mixed Company Theatre; Théâtre Français de Toronto; Theatre Orangeville; Theatre Passe Muraille; Canadian Stage (Lucy 2007); Stratford Festival (The Comedy of Errors 1994, Zastrozzi 2009, Waiting for Godot 2013, The Hypochondriac 2016); Shaw Festival (The House of Bernarda Alba, Albertine in Five Times 2009, Lady Windermere's Fan (2013); Pacific Opera; Canadian Opera Company (Red Emma 1995, The Emperor of Atlantis 1997); and Opera Theatre of St. Louis.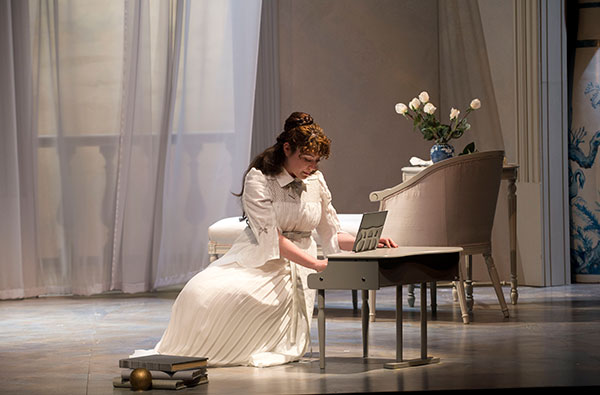 Marla McLean as Lady Windermere, Shaw Festival 2013. Photo by David Cooper.
Her designs are often characterized by the use of earth, water, and sun to create elemental, mythical scenarios. The costumes of the characters are integrated with the scenography. For Lady Windermere's Fan, she matched the look of each act with a painting which evoked the psychological journey of the protagonist. For The Hypochrondria at Stratford, she used elements of commedia dell' arte for the costumes, and extravagantly comic wigs.
She has been awarded five Dora Mavor Moore Awards, and nominated for twenty. Her design for Michel Tremblay's Marcel Pursued by Hounds (Tarragon Theatre 1998) was exhibited at the Prague Quadrennial in 1999.
Source: Natalie Rewa. Scenography in Canada: Selected Designers. Toronto: University of Toronto P, 2004.
Last updated 2016-08-29