Theatre Orangeville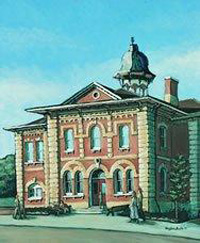 Theatre Orangeville
Theatre company, based in the town of Orangeville, County of Dufferin, Ontario. It was founded in 1993 with the restoration of the Opera Hall on the second floor of the Orangeville Town Hall. Under the leadership of Artistic Director, Jim Betts, Theatre Orangeville opened its first season in 1994.
The company began with an 8-week summer playbill, and has grown into a fully regional theatre company that runs shows all year long, with an emphasis on musical theatre and comedies such as Norm Fosterís Old Love, and John Grayís Eighteen Wheels, both featured in the 2009/10 season.
Some of the notable theatre artists who have performed on the Theatre Orangeville stage are: Michael Burgess, Michael Therriault, Louise Pitre, Rod Beattie, Avery Saltzman, Douglas Chamberlain, Lally Cadeau, and Ted Follows.
Theatre Orangeville has also developed and premiered a number of new Canadian works that have gone on to achieve success across Canada: Could You Wait?, The Last Resort, War Brides, Dear Santa, Little Women - The Musical, Kiss the Moon, Kiss the Sun, Outlaw, 'Twas, The Giant's Garden, and True Confessions From The Ninth Concession by Dan Needles and songwriter Ian Bell (2018), to name just a few.
Theatre Orangeville supports several programs for young people, including the Theatre Orangeville Youth Singers, and school shows.
David Nairn has been Artistic Director since 1999, and as of 2020 has directed 65 plays during his 20-year tenure.
website: www.theatreorangeville.ca
Profile by Gaetan Charlebois. Updated by Anne Nothof.
Last updated 2021-12-14