Arbor Theatre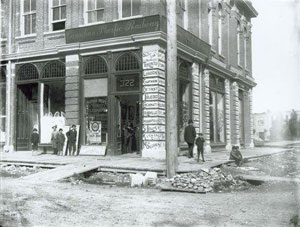 Market Hall, Peterborough, 1890
Theatre company established in Peterborough Ontario in 1977 by John Plank with the Peterborough Theatre Guild. He directed Private Lives, Belle of Amherst and Lady Audley's Secret the following year, and in 1979 the group was reorganized as a professional theatre company performing during the summer season at Trent University's Wenjack Theatre. In 1991, the company began using the theatre in the renovated Market Hall (originally constructed in 1890) in the city centre.
Arbor productions of Canadian plays include: Waiting for the Parade (1980) by John Murrell; Artichoke (1983) by Joanna McClelland Glass; Last Call (1984) by Morris Panych; Nurse Jane Goes to Hawaii by Allan Stratton; Salt-Water Moon (1987) by David French.
Arbor Theatre also hosted productions, such as Colleen Curran's Cake-Walk (1986) from the Blyth Festival; Macbeth (1986) by the Touring Stratford Festival Young Company; Dan Needles's Letter from Wingfield Farm (1987); Ken Brown's Life After Hockey (1987); Wingfield's Progress (1988); John Gray's Billy Bishop Goes to War (1988); Kelly Rebar 's The Bordertown Cafe (1988) from the Blyth Festival; Robert Clinton's The Mail Order Bride (1989) also from Blyth; Paul Ledoux and David Young's Fire (1992); and Drew Hayden Taylor's The Bootlegger Blues (1993).
Since 2001 the Arbor has been a Young People's Theatre. Its mission is to develop and present original, affordable, curriculum-linked, primarily Canadian historical plays for young audiences which are of high artistic standards, and which entertain, educate, and provoke dialogue and reflection. It tours its productions to regional schools. For over twenty years, Arbor has presented 19 December "Classics", featuring adaptations of popular fairy tales and stories.
Ray Henderson is the founding and current Artistic Director of the YPT.
Website: www.arbortheatre.ca
Last updated 2019-09-07