Théâtre Français de Toronto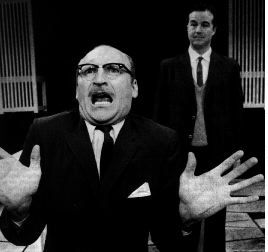 The 1996 Théâtre Français de Toronto production of Molière 's Tartuffe
French-language theatre company in Toronto, Ontario, the largest francophone company outside Quebec.
It was founded in 1967 by John Van Burek as Théâtre du P'tit Bonheur and performed out of a church basement. It turned professional in 1973, and expanded quickly, moving to Adelaide Court in 1978 and to Harbourfront in 1987, where it rented the du Maurier Theatre Centre. It now performs out of the Berkeley Street Theatre. It changed its name to Théâtre Français de Toronto in 1987.
The theatre enjoys a consistently large audience for its work. Since its founding it has presented over 200 productions from the Canadian, French and international repertoires.
Quebec plays, particularly those of Michel Tremblay, feature prominently in the repertoire. It also attracts top-notch artists like Brigitte Haentjens, Pierre Collin and Huguette Oligny.
The Acadian play, La Sagouine by Antonine Maillet, and starring Viola Léger, played to near capacity houses in French in 1979, in English in 1980, and again in French in 1988. In 2002 Tremblay's L'Etat de lieu was directed by André Brassard. The 2003-04 season included Pour une fois by Herménégilde Chiasson, and Helen's Necklace by Carole Frechette. The 2007 season featured Grace and Gloria by Tom Ziegler, also starring Acadian actor Viola Léger, in a translation by Michel Tremblay; and Apocalypse a Kamloops by Stephan Cloutier, a joint production by Théâtre la Seizième in Vancouver, Théâtre Catapulte in Ottawa and Théâtre Français de Toronto.
In October 2016, the theatre co-produced The (Post)Mistress by Tomson Highway in English and French with Pleiades Theatre (dir. John van Burek, with set by Teresa Przybylski). Patricia Cano performed and sang, Highway accompanied on the piano. In her review, Karen Fricker enthused about the production: "Along with great songs and a winning performance, what's delivered here is a celebration of Francophone Northern Ontario, and the place in it of Native cultures, languages, and spirituality" (thestar.com 17 Oct 16).
The theatre also mounts and tours productions for young audiences. In 2005 English surtitles were introduced.
Van Burek was Artistic Director from 1971 to 1974, and from 1980 to 1991. Between 1974 and 1976 volunteer ADs Claire Pageau and Carmelle Brodeur ran the theatre. Eugene Gallant was AD from 1976 to 1980; Diana Leblanc from 1991 to 1997, followed by Guy Mignault. Joel Beddows was AD from 2015 to 2021, followed by Karine Ricard as of July 21, 2021.
The company's archives are at the L.W. Conolly Theatre Archives of the University of Guelph, Ontario.
Sources include: The Oxford Companion to Canadian Theatre. Eds. Eugene Benson, L.W. Conolly. Oxford UP: Toronto, 1989.
Web site:www.theatrefrancais.com
Last updated 2021-12-08