Franken, Jerry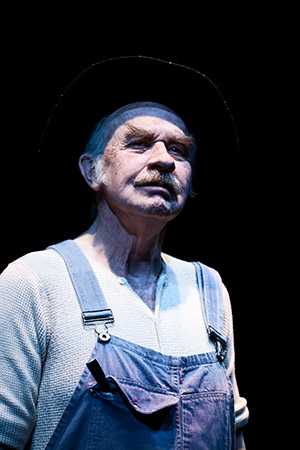 Jerry Franken in Free as Injuns, Native Earth Performing Arts. Photo by Juan Camilio Palario
Ontario-based actor born in Edmonton Alberta in 1947, died January 15, 2016 at the age of 68.
Jerry Franken grew up in California and studied acting at San Francisco State College, then became a member of the Young Company at Manitoba Theatre Centre, where he met Keith Turnbull and subsequently helped to found NDWT in the 1970s, serving as Associate Artistic Director. For NDWT, he workshopped and performed for seven years in James Reaney's The Donnellys, touring with the Company to small towns in Northern Canada, and across the country. He acted at Blyth Festival (twelve seasons), Magnus Theatre, Grand Theatre, London, Centaur Theatre, Sudbury Theatre Centre, Globe Theatre, and in the hugely successful Theatre Passe Muraille production of The Drawer Boy in 1999. According to Globe and Mail critic, J. Kelly Nestruck, "Healey wrote it, in part, to give Franken a role. The heartbreak, the rage, the disappointment in that play – it might not have been there without Franken shaping the part" (18 March 2016).
In 2000, Franken appeared in the Stratford Festival productions of Hamlet (Polonius), As You Like It, and Titus Andronicus, and in 2007 in Of Mice and Men. He subsequently acted in Old Love by Norm Foster (Lighthouse Festival Theatre, 2008); Scorched by Wajdi Mouawad (Tarragon Theatre, 2008, 2009); Jitters by David French at Soulpepper Theatre Company (2010); The Black Bonspiel of Wullie MacCrimmon (Globe Theatre 2011); Free As Injuns (Native Earth Performing Arts 2014); and Dead Metaphor by George F. Walker (Canadian Rep Theatre 2014).
In 2010, Franken portrayed the Canadian sculptor, Haydn Davies, whose work has been destroyed by city officials, in Anthony Black's Homage (2b Theatre Company dir. Christian Barry). In his Stage Door, review, Christopher Hoile notes that "Franken makes Davies' thoughts about his works and his own impermanence particularly moving" (stage-door.com 2010/6/18).
On acting in a play by Shakespeare Franken has said, "The emotion is built into the text. You can't put anything on top of it. You have to come out of the rhythm of the text and out of the language of the text, but it's all there. And it's a matter of trusting that and trusting yourself. Using any tricks with Shakespeare is dangerous."
Franken has also directed, notably Tomson Highway's Annie and Old Lace (Centaur Theatre, 1989).
Sources: Ian Gillespie. "In awe of the stage," London Free Press, 27 June 2000.
Taped interview of Jerry Franken by Christopher Hunt, Regina, 2011.
Profile by Gaetan Charlebois and Anne Nothof
Last updated 2021-01-24