Geordie Theatre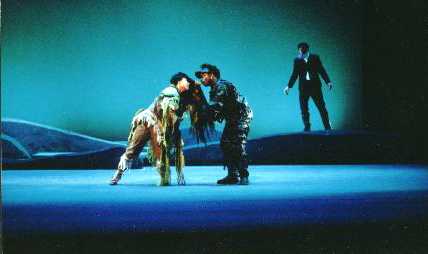 Geordie's
Whale
by David Holman, directed by
Elsa Bolam
, 1992, with (l-r) Jennifer Heywood, Roland Smith, Bruce Spinney; lighting by
Spike Lyne
; set by
Andrew Lue Shue
; costumes by Jill Thomson. Photo by Jill Thomson
English language Company in Montreal, Quebec, specializing in theatre for young audiences. It was founded in 1982 by Elsa Bolam and since has presented between 200 and 300 performances per season to about 68,000 spectators.
In its early years the company depended largely on condensed versions of the classics, but the group has become more Canadian in content, presenting works like Billy Bishop Goes to War and Leacock Speaks!. Its A Promise is a Promise toured for five years, mainly in the U.S. The company aims works at both primary and secondary school audiences but also occasionally presents its works to adult spectators.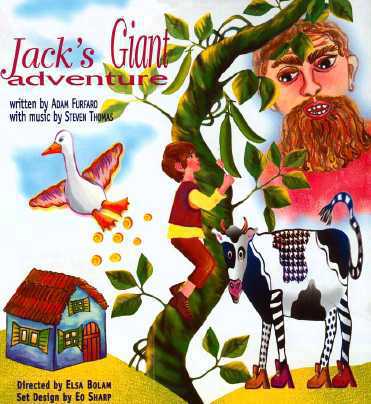 Poster art for the 2001 Geordie production of Jack's Giant Adventure
Productions for 1999/2000 included: The Wind in the Willows; Legends of the Northern Swamp: The Adventures of Emily Bronte-saurus; Andy O'Brien's Amazing Adventure; and The Paperbag Princess (and other stories).
In 2009, Geordie Theatre hosted MaÏta, by Esther Beauchemin, produced by Théâtre de la Vieille 17 and Moncton Sable (dir. Robert Bellefeuille). The work was inspired by traditional Indonesian shadow puppet theatre, and tells the story of a South-East Asian girl living in a world of inequality and hardship who uses her imagination - and her puppet, Issane, the princess of light - to uncover a universe of beauty and wonder.
In November 2010, Geordie celebrated its thirtieth anniversary season with For Art's Sake by Canadian playwright, Colin Heath (dir. Amanda Kellock) at the Centaur Theatre. The play explores the creative potential of the imagination when a young boy discovers that his paintings come alive through a picture frame's magic.
Geordie Theatre tours extensively throughout Quebec, the Atlantic Provinces, Western Canada and the Northeastern United States.
The Company also operates the Geordie Space, one of the most active alternative spaces in the city, and, since 1989, the Geordie Theatre School for children 5-16.
The Company is funded by corporate and private funds as well as by federal and provincial bodies.
Since 2006 the Artistic Director was Dean Fleming, followed by Mike Payette until 2021, when he joined Tarragon Theatre as A.D. The current Artistic Director is Jimmy Blais, a member of the Muskeg Lake Cree Nation of Plains Cree and French settler heritage, born and raised in Tiohtià:ke/Montreal, He graduated from Concordia's Theatre Performance Program, and has acted on stage and in film.
Website: www.geordie.ca
Last updated 2021-12-03