Bolam, Elsa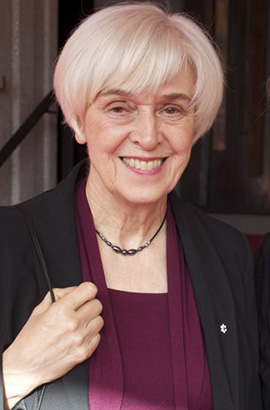 Elsa Bolam. Photo by Dory Reimer.
Director born in Newcastle upon Tyne in northern England (known as "Geordie Country"). She studied English literature at Leeds and Durham Universities, and received a Masters in Drama from Syracuse University. After returning to the UK, she worked for the Royal Shakespeare Company in Stratford and London and directed over twenty productions with companies in Britain and on BBC television.
Since coming to Canada in 1968, she has taught at the National Theatre School of Canada, helped found Centaur Theatre with her husband, artistic director Maurice Podbrey, and directed 80 productions at theatres across the country including Theatre Calgary, Theatre Plus, Sudbury Theatre Centre, Magnus Theatre and Globe Theatre, London. Elsa Bolam has also directed frequently at Centaur including the Neil Simon Broadway works, Brian Friel's Translations and Edward Bond's The Sea.
In 1982 she founded Geordie Theatre -- a touring company based in Montreal which serves both young and adult audiences -- and was the Artistic Director until 2006. The company has mounted such diverse productions as Leacock Speaks, a one-man show starring David Francis, and a revival of Billy Bishop Goes to War.
More recently, Elsa Bolam has directed a successful production of Willy Russell's Educating Rita for Village Theatre in Hudson Quebec.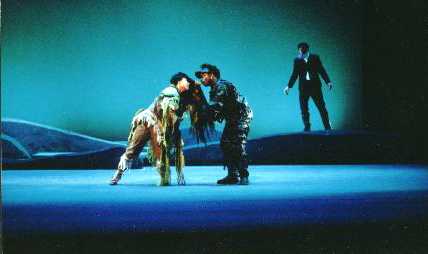 Geordie Theatre'
Whale
by David Holman, directed by Elsa Bolam, 1992, with (l-r) Jennifer Heywood, Roland Smith, Bruce Spinney (lighting by
Spike Lyne
, set by
Andrew Lue Shue
, costumes by Jill Thomson) (photo: Jill Thomson)
In 2011 Bolam undertook to head the English Language Arts Network (ELAN) initiative, "Arts and Community Culture on the Road (ACCORD)", to bring English cultural events to remote Anglo areas of Quebec.
in 2003 she was awarded a Queen's Golden Jubilee Medal. The Montreal English Critics' Circle honoured her in 2005 with a distinction award "in recognition of her work nurturing young stage talent and taking theatre to far-flung audiences." In 2008 she was named Member of the Order of Canada for her contribution to Canadian theatre. In October 2012 Concordia University presented her with an honorary doctorate.
Bolam lives in Montreal. Her son and daughter are both involved with film and theatre.
Profile by Gaetan Charlebois and Anne Nothof
Last updated 2021-01-25