Cirque du Soleil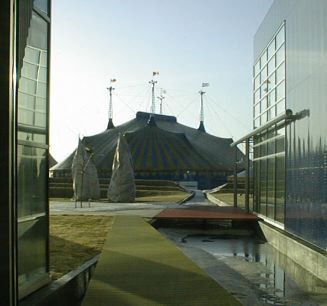 The famous tent (with seating for 2400) erected at the Cirque headquarters, and set to receive the 1999 production of Dralion (Photo: Gaetan Charlebois)
Internationally celebrated circus/theatre company based in Montreal, Quebec. It was founded in 1984 by Guy Laliberté with a group of street performers who performed fifty shows on tour in eleven cities in Quebec as part of the 450th anniversary of Jacques Cartier's landing. Their symbol, a large tent with a blue and yellow top, is still part of the Cirque's image.
There are no animal acts in Cirque performances, which exhibit a heightened aesthetic quality in costumes and staging, and an extraordinary athleticism demonstrating the beauty and strength of the human body.
The Cirque's education arm, Cirque du Monde, teaches circus skills to children at risk in fifty countries.
In 1986 the Cirque performed at Expo 86 in Vancouver, British Columbia, before crossing the border into California in 1987 with the Cirque Réinventé show which became the hot ticket for the LA jet-set. The company was on its way to becoming a worldwide phenomenon.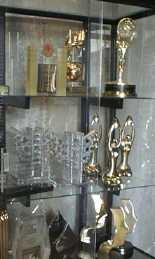 One of the Cirque du Soleil trophy cases including their International Emmy (top, right) and their Geminis (bottom, right) (Photo: Gaetan Charlebois)
In 1988 tours took in America's two coasts. By 1990 the company visited Europe, by 1992 Japan, and also in 1992 it established a permanent circus in Las Vegas. In 1998, it opened another mega-production in a specially conceived house at the Belagio Hotel, entitled O, a pun on the French word for "water." It is played out against, over and in a gigantic pool of water and featured Olympic synchronised swimming champion Sylvie Frechette. The Cirque also established a location in Disney World, Florida.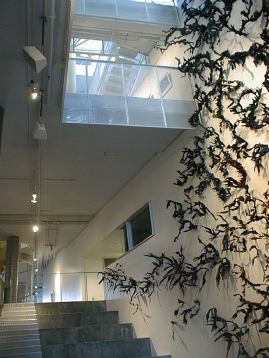 The interior of the Cirque's new headquarters in Montreal (Photo: GC)
Most of the company's productions have been directed by Franco Dragone. Works include Alegrià, Saltimbanco, Quidam, Nouvelle Expérience, Mystère and the 1999 production, Dralion. The soundtracks composed by René Dupéré) have become hit records. Each work has a specific theme and the performers are recruited world-wide. Because of the huge demands of both the touring and the high aesthetic standards expected from the company, Cirque du Soleil has brought into the fold some of Canada's greatest designers including Michel Crête, Dominique Lemieux, and Robert Lepage who have inspired the work of the company towards new levels of beauty and innovation.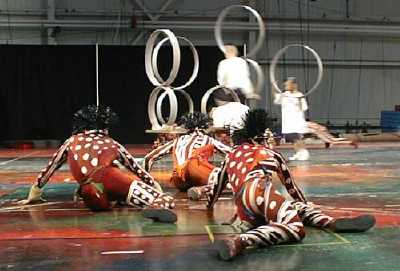 A scene from Dralion, the 1999 Cirque production, at the March 29 press conference. (Photo: GC)
In 1999, a dramatic movie featuring the Cirque's Alegria opened, directed by Dragone and featuring one of the company's finest performers, René Bazinet. Several of their productions have been filmed for television.
In 2002, the company launched Varekai, written and directed by Dominic Champagne, with set design by Stéphane Roy. The story line is inspired by the Greek myth of Icarus, who fell from the sky when the wax in his wings melted when he flew too close to the sun. In Varekai, which means "wherever" in the Romany language, Icarus's fall is arrested by a net in a magical forest, inhabited by gymnastic creatures, and presided over by the aerial goddess Diana.
In 2009, Cirque du Soleil launched OVO in Montreal's Old Port, under its trademark yellow and blue Big Top. OVO has an environmental theme, displaying the biodiversity of the planet through sound, acrobatics, and costumes of insects in the Brazilian rainforest. It is directed by Brazilian choreographer, Deborah Colker.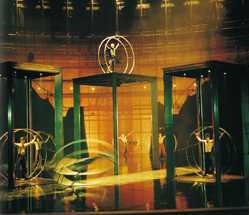 La Nouba. Costumes by Dominique Lemieux, sets by Michel Crête
By 2012, the Cirque had seven resident shows in Las Vegas: Zumanity, Criss Angel Believe, The Beatles Love, Ka, Mystere, O, and Zarkana; and one resident show in Disney World Orlando: La Nouba. In April 2012 it premiered Amaluna in Montreal. Conceived and directed by Diane Paulus, it is based on the story of Shakespeare's The Tempest, with a female "Prospera" who instructs her daughter in the arts of the island. Its cast is 70% female, with an all-woman band.
Toruk, inspired by James Cameron's Oscar-winning movie Avatar launched in 2016. Kurios, exploring the fanciful possibilities of invention, toured in 2017.
In 2015, twenty Cirque shows were in production in specifically constructed theatres, or touring the world. More than ninety million spectators worldwide have seen a Cirque show since its inception. The Company was valued at $1.5 billion.
However, between 2007 and 2013, five of the seven new shows lost money and closed early, and in April 2015 Laliberté negotiated the sale of majority shares to Fosun Capital Group from Shanghai, China (20%) and TPG Capital LLP of the US (60%), a private equity firm with interests in broadcasting. Laliberté retains 10%. The new partners planned a major expansion of the Company into China. In 2019, it opened its first resident show, X: The Land of Fantasy in Hangzhou.
In 2020 Cirque du Soleil collapsed into insolvency after the Covid-19 pandemic forced it to shut down 44 productions and lay off 4,679 employees on March 19. The Company backed a restructuring plan from its creditors, Catalyst Capital and fifteen others. Daniel Lamarre is president and CEO. In April, 2021, Lamarre announced that four iconic shows would reopen, after being closed for more than a year due to the pandemic: "O" at Bellagio and Mystère at Treasure Island in summer 2021 in Las Vegas; the touring show KOOZA will be presented in Punta Cana, Dominican Republic, starting November 2021, and LUZIA will reopen at London's Royal Albert Hall in January 2022.
Cirque du Soleil has brought wonder and delight to more than 365 million spectators in over 90 countries since its beginnings in 1984.
Website: www.cirquedusoleil.com
Profile by Gaetan Charlebois and Anne Nothof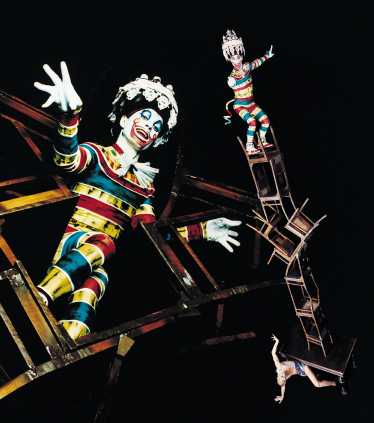 La Nouba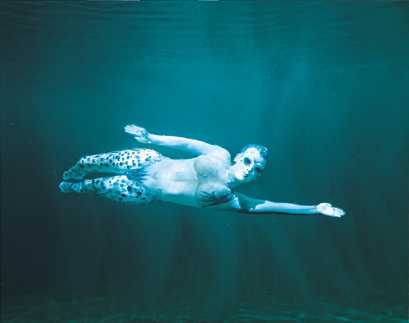 O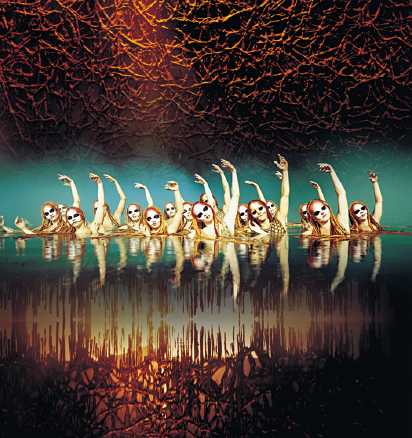 O
Last updated 2021-04-22