The Maggie Tree

Collective, Edmonton Alberta-based theatre company with a mandate to support the development and visibility of women in creative leadership roles in the arts. The company was founded in 2007 by actors Kristi Hansen and Vanessa Sabourin (former Artistic Director of Urban Curvz in Calgary). The formation of the Maggie Tree was inspired by Sabourin's attendance at a Magdalena Project in 2006 - a dynamic cross-cultural network of women's theatre and performance, facilitating critical discussion, support and training, with a commitment to ensuring the visibility of women's creativity. The Company's name, The Maggie Tree, references the Magdalena Project.
The Maggie Tree focuses primarily on new work by and about women. A preference is given to projects which create strong new roles for women and/or give voice to a female perspective.
The Company also privileges work that investigates the integration of movement and text, developing its own process and methodology for working these two elements into a dynamic and inventive relationship.
Productions of Canadian works include: Hunger Striking by Kit Brennan (2008); A Life in the Day by Beth Graham (2009, Sterling Award); Folie à Deux by Trevor Schmidt (2010, Sterling Award); Hroses: An Affront to Reason by Jill Connell (2011); Shattered by Trina Davies (2011).
In 2013, The Maggie Tree produced Age of Arousal by Linda Griffiths (C103 Theatre, 2013), in collaboration with Blarney Productions, and in association with Theatre of the New Heart, with a strong ensemble of Edmonton actors: Sandra M. Nicholls, Kristi Hansen, Melissa Thingelstad, April Banigan, Caley Suliak, and Jesse Gervais. This was an exceptional production of a challenging, witty play, which expressed complex emotions of women under duress with a sense of historical irony.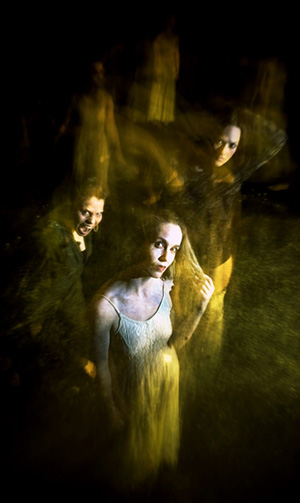 Monstrosities. Photo by Marc J. Chalifoux
In April 2014 the Company premiered Monstrosities (dir. Sandra Nicholls), a collective creation by actors Amber Borotsik, Kristi Hansen, Vanessa Soubourin (with playwright Jill Connell) in a co-production with Urban Curvz. In three monologues which express extreme physical and mental states, these women enact the ways in which they may be perceived as "monsters": Borotsik is a fragile agoraphobic who has lived in a room with her fantasies for two years until finally making contact with a man (either imagined or real or both); Sabourin is a Manticore with three sets of teeth, tough and resistant, but living inside of a tornado; Hansen is a beautiful woman who has enacted many diverse sexual roles in which her truncated leg (phocomelia) functions as a sex organ. In her review, Liz Nicholls suggests that "The essence of Monstrosities is the reverse--apparent strangeness that turns out to be human and somehow quite familiar" (Edmonton Journal 18 Apr 14).
In April, 2015, The Maggie Tree launched Category E, a commissioned play by Belinda Cornish. This "comedy of menace" with an animal rights agenda, shows the disturbing lethal effects of testing cosmetics on three women, who pass the time before their next experiment in the cell of an English laboratory. The claustrophic, end-game scenario recalls the absurdist plays of Samuel Beckett and Harold Pinter. It won five 2015 Sterling Awards: best New Play, Independent Production, Supporting Actress (Jenna Dykes-Busby), Lighting (T. Erin Gruber), and Multimedia Design (ShowStages Collective).
The Supine Cobbler by Jill Connell premiered in April 2016. Using macho Western mythology and imagery, it ironically interrogates the fraught subject of abortion from several women's perspectives.
In April 2017, The Maggie Tree presented the Off Broadway hit 9 Parts of Desire in association with Theatre of the New Heart (dir. Vanessa Sabourin). Written by American-Iraqi performer playwright, Heather Raffo, the play enacts the lives of nine Iraqi women between the first and second Gulf Wars, exploring the conflicting aspects of what it means to be a woman in a country at war.
Website: www.themaggietree.com
Profile by Anne Nothof, Athabasca University
Last updated 2017-10-31