Blarney Productions
Independent theatre company located in Edmonton, Alberta, co-founded in 2006 by actor John Sproule and actor/stage manager Wayne Paquette, who is the current Artistic Director.
Blarney Productions is dedicated to producing theatre that challenges the audience, entertains, and shocks. "It is sometimes dangerous, and always provocative" (website). The casts typically include Edmonton's most talented actors. The name was inspired by its first production at the Edmonton International Fringe Festival in 2006, the Irish Chekhovian two-hander, Afterplay by Brian Friel, which set the stage for the company's subsequent compelling productions.
Blarney's Fringe plays have included two works by Irish playwright Conor McPherson: The Good Thief (2008) with Frank Zotter, and Rum and Vodka (2012) with Jon Lachlan Stewart; Australian playwright Ron Blair's The Christian Brothers starring John Sproule; Skirmishes by Catherine Hayes, a fraught encounter between two sisters at their mother's deathbed; and 3 … 2 … 1 (2014), a tragicomedy by Nathan Cuckow and Chris Craddock about a couple of Prairie boys "bandaging their emotional wounds with an epic bender in a Wetaskiwin garage" (Liz Nicholls, Edmonton Journal, 2015). For the 2016 Fringe, Blarney presented Never Swim Alone by Daniel MacIvor (dir. Luc Tellier) and Scaramouche Jones (dir. Braydon Dowler Coltman).
In 2008, Blarney moved beyond the Fringe with a production of American playwright Craig Wright's Orange Flower Water, a fraught exploration of the consequences of adultery on two couples. Blarney has also mounted co-productions with other Edmonton Indie companies: In 2013, Blarney and The Maggie Tree co- produced an imaginative and powerful interpretation of Age of Arousal by Linda Griffiths, with a strong cast of Edmonton actors: April Banigan, Jesse Gervais, Kristi Hansen, Sandra M. Nicholls, Caley Suliak, and Melissa Thinglestad. Also in 2013, they co-produced Murielle, a mimed memory play by Ellen Chorley with Promise Productions, recreating a lost love through the imagination of a lonely old woman (played by Coralie Cairns).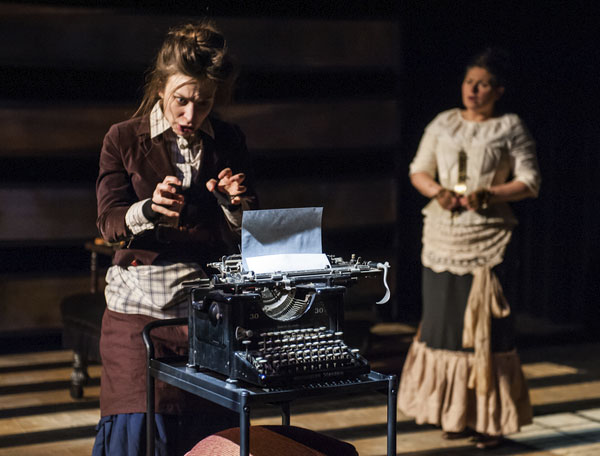 Age of Arousal with Melissa Thinglestad (left) and April Banigan.
In 2015, Blarney moved into a full season of plays with the Canadian premiere of Full Frontal Diva by Winnipeg playwright Donn Short, featuring Jesse Gervais, Aaron Talbot, Eric Wigston and Walker Lee (dir. Wayne Paquette). In three extended monologues, three very different men from the same small town attempt to come to terms with the murder of a young boy twenty years previously, uncovering past and present homophobia, violence and shame.
In May 2015, Blarney premiered Mote by Jose Teodoro (dir. Wayne Paquette), a murder mystery that is an extrapolation of Hitchcock's Psycho; followed by A Steady Rain by Keith Huff (dir. Wayne Paquette), with Jesse Gervais and John Ullyatt as two angry detectives struggling with their stalled lives and careers.
Blarney produced two plays at the 2018 Edmonton Fringe Festival: an outstanding performance of Tragedy: A tragedy by American playwright Will Eno, and the world premiere of Fetch by Edmonton playwright and actor, Cat Walsh.
The company has won eight Elizabeth Sterling Haynes Awards, and nominated for an additional fifteen.
Website: www.blarneyyeg.com
Profile by Anne Nothof, Athabasca University
Last updated 2018-08-22