Rose, Eric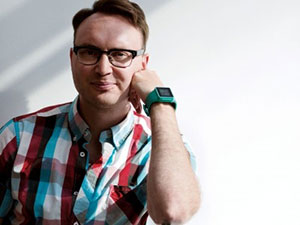 Eric Rose
Playwright, director, educator, and currently Artistic Director of Ghost River Theatre. Born in 1978, Eric Rose is based in Calgary Alberta. He has worked in theatres across Canada, the United States, South Korea and Ghana in a wide diversity of projects: including large scale contemporary and classical theatre, site-specific performance, performance creation, devising theatre, new play development, physical theatre and dance.
He was the Playwright in Residence at Alberta Theatre Projects (2007-2010 and 2014/15),) as well as Theatre Calgary's Artistic Associate (2003-2007) where he was the Director/Curator for the New Play Initiative: FUSE.
With David Van Belle and the Ghost River company, he devised the innovative, multi-media productions The Highest Step in the World (playRites 2010), and The Last Voyage of Donald Crowhurst (Alberta Theatre Projects 2014), for which he won a Betty Mitchell Award for directing. In March 2019, Ghost River Theatre presented GIANT (with the Festival of Animated Objects) at the Grand Theatre in Calgary. Co-written by Van Belle and Rose, it performed the story of professional wrestler/actor Andre the Giant told from the perspective of his estranged daughter. An ensemble of five female actors engaged in wrestling, and manipulated puppets of various sizes, performing in a wrestling ring.
Rose has directed David van Belle's Everything is Terribly Nice Here for GRT; The Kite Runner (2013), Jake and the Kid, and Our Town for Theatre Calgary; The Huron Bride for Vertigo Theatre; Once Upon an Atom Bomb for Green Fools; and Peril in Paris for Lunchbox Theatre.
Plays directed by Rose for Ghost River have won sixteen Betty Mitchell Award nominations and eleven wins, including awards for outstanding production for The Last Voyage of Donald Crowhurst, The Highest Step in the World and ONE, which also won Toronto's Summerworks Theatre Festival CanStage Directing Award. In 2012 he was named in the "Top 40 Under 40" list by Avenue magazine in Calgary. Also in 2012, he was awarded the 2012 Lieutenant Governor of Alberta Emerging Artist Award for his body of work as a theatrical innovator.
As an educator, he has taught in universities and theatres across Canada.
Source: Ghost River Theatre website
Profile by Anne Nothof, Athabasca University
Last updated 2019-09-09