Ghost River Theatre
Theatre company in Calgary, Alberta, founded in 1991 by playwright Doug Curtis, who was Artistic Director until 2007. Ghost River began with text-based theatre and moved the text into other areas of performance including movement and music - a hybrid form of theatre called "rock n' roll storytelling." More recently, it has engaged in imaginative multi-media productions, a form of devised theatre in which the way the story is told is as important as the story itself.
From its inception, the Company travelled across the country, appearing at various Fringe Movement Festivals, with Doug Curtis as storyteller, Lester Quitzau on guitar and Peter Moller as comedic/percussion sidekick. Works included The Carrot Warrior Seminar, Venus Rising , and Mesa by Doug Curtis.
Ghost River became the subject of national controversy in March, 2001, when it mounted An Eye For an Eye: An Oil and Gas, Piss and Vinegar Cabaret. The production performed the ongoing saga of incarcerated environmental protestor/terrorist/preacher Wiebo Ludwig and the gunshot death of 16-year-old Karman Willis near Ludwig's farm. An Eye for an Eye was awarded the Betty Mitchell Award for Outstanding Musical in 2001.
The Alan Parkinson's Project, a stunning enactment of the physical and mental torture of Parkinson's disease through a characterization of each symptom, and based on Doug Curtis's own struggle with the illness, premiered in 2005.
In 2009 Ghost River produced the new works Something to Do With Death, a Sergio Leone-inspired fable for the New West; and Pack of Lies by Lindsay Burns - a study of boom-and-bust Calgary.
The Highest Step in the World by David van Belle and Eric Rose premiered at Alberta Theatre Projects' playRites festival in 2010. This multimedia aviation fantasy explores the fascination of risk-taking, and the exhilaration of free-falling from the perspective of a NASA test-pilot who jumped from a weather balloon 31,300 metres above the earth, with reference to the myth of Icarus. It also tells the story of the Serbian flight attendant who was the only survivor of a terrorist bomb attack, and references the personal life of co-creator and actor, David van Belle.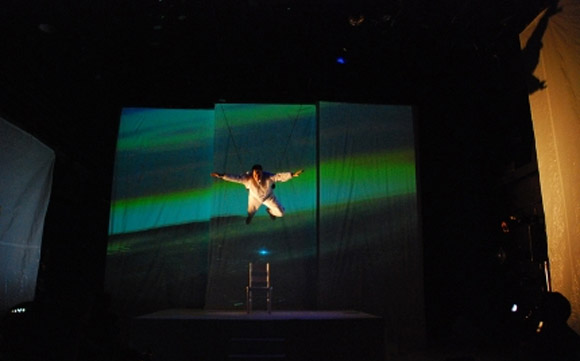 The Highest Step in the World, with David van Belle
One by Jason Carnew (dir. Rose) was developed between 2006 and 2013, and won four Betty Mitchell Awards. A multi-media, free-association on the Orpheus and Eurydice myth, One follows the desperate journey of Philistine, an impassioned librarian searching for the love of her life, an astronomer who's been lost at sea. Her devotion takes her into the world of the dead, suffused with memory, imagery, sound and fragments of language (website). One was revived in 2020, and played at Factory Theatre for its 50th anniversary season.
In 2014, Ghost River initiated an exploration of the senses through performance art: Tomorrow's Child, adapted from Ray Bradbury's short story by Rose, Matthew Waddell, and van Belle, imagines a retro-future of 1988, in which a child is born into another dimension, beyond the comprehension of the parents. For this immersive audio-experience, the audience is blindfolded.
In February 2015, after a four-year development period, Ghost River launched The Last Voyage of David Crowhurst at Alberta Theatre Projects, based on the logs of a British amateur sailor who attempted to sail solo around the world in the 1968 Golden Globe Sailing Race. His empty boat was found drifting in the Atlantic Ocean on the last leg of the race. The play employs multiple perspectives and real-time streaming video to explore the effects of isolation on a driven, ambitious individual.
In March 2019, Ghost River Theatre presented GIANT (with the Festival of Animated Objects) at the Grand Theatre in Calgary. Co-written by Van Belle and Rose, it performed the story of professional wrestler/actor Andre the Giant told from the perspective of his estranged daughter. An ensemble of five female actors engaged in wrestling, and manipulated puppets of various sizes, performing in a wrestling ring.
Ghost River is funded by the Canada Council, Calgary Region Arts Foundation and Alberta Playwrights Network. It was incorporated in 1999. It has received many awards since its inception, including 21 Betty Mitchell Awards. From 2009 to 2015, David van Belle and Eric Rose were Co-Artistic Directors. As of 2015, van Belle is Creator-in-Residence, and Rose is Artistic Director. In 2016, Louise Casemore was appointed Artistic Associate.
Website: www.ghostrivertheatre.com
Profile by Anne Nothof, Athabasca University
Last updated 2019-09-09