Hudson, John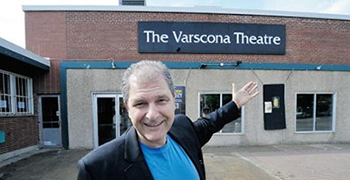 John Hudson. Photograph by John Lucas, Edmonton Journal.
Artistic Director and co-founder of Shadow Theatre in Edmonton Alberta. John Hudson graduated from the B.F.A acting program at the University of Alberta in 1988.
He has directed over 100 plays for Shadow Theatre, and introduced a wide range of contemporary American and Canadian plays to Edmonton audiences, including premieres of many works by former playwright-in-residence, David Belke. Award-winning productions include A Picasso (Sterling Award, Outstanding Fringe Production and Direction, 2013); The Unseen (Critics Award, Outstanding Fringe Production, 2011). He has received Sterling nominations for Grace, and Three Days of Rain.
For Shadow Theatre, he has directed Canadian premieres of Mistakes Were Made, The Pavilion, Speaking in Tongues, Honour and The Beginning of August; and world premieres of Little Elephants by Belinda Cornish, The Science of Disconnection (2010) and Next Year's Man of Steel (2011) by David Belke, The Liars (2010) by Jocelyn Ahlf, The Last Train (2003) by Daniela Vlaskalic and Beth Graham, Sequence (2014) by Arun Lakra, First Time Last Time by Scott Sharplin, and Miss Teen by Michele Riml.
He is Executive Director of Varscona Theatre, a co-operative community theatre space in Old Strathcona that also houses Teatro La Quindicina. In June 2017 he was inducted into the City of Edmonton's Cultural Hall of Fame for Arts and Culture.
He lives in Edmonton with his wife Sandy and their two daughters.
Profile by Anne Nothof, Athabasca University
Last updated 2019-05-15