Davies, Robertson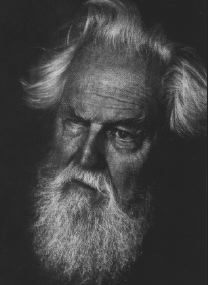 Robertson Davies
Playwright, novelist, editor, publisher, born in Thamesville, Ontario in 1913, died in Toronto, Ontario, in 1995.
Robertson Davies was the son of Senator William Rupert Davies. He studied at Upper Canada College, Queen's University and Oxford (B.Litt., 1938), with a thesis on Shakespeare's boy actors. He playing minor parts at the Old Vic, London, England under Tyrone Guthrie.
He returned to Canada in 1940 and worked as editor (notably for Saturday Night and the Peterborough Examiner) and began to write novels and plays, many of which he produced and directed himself. His 1949 production of The Taming of the Shrew with the Peterborough Little Theatre came second in the Eastern Ontario Drama Festival, and won a trophy for best direction at the Dominion Drama Festival in Toronto.
Davies played a major role in the founding of the Stratford Festival, serving on its board of governors, and writing three books about the founding of the Festival. With Dora Mavor Moore, he persuaded Tyrone Guthrie helm the Festival. However, in April, 1974, he joined several Canadian directors and drafted the letter that was sent to the board of Stratford, urging it to consider Canadians in their hunt for an artistic director.
In 1948 he won the Dominion Drama Festival award for best Canadian play for Eros at Breakfast. At My Heart's Core, a full-length work featuring the struggles of Susanna Moodie and Catherine Parr Trail to write about life in the Ontario bush, appeared in 1950.
Other plays include: Overlaid (Ottawa Drama League, 1947), Hope Deferred (Montreal Repertory Theatre, 1948), The King Who Could Not Dream (1944, unproduced), A Jig for the Gypsy (Crest Theatre, Toronto, 1954), General Confession (1972), Question Time (St. Lawrence Centre, 1975), and Brothers in the Art of Black (1981). Many of his plays are witty satiric comedies, with a melodramatic bent, portraying Canadian cultural and social limitations and the possibilities for imaginative creativity when conventions and inhibitions are overcome.
Several of his novels have been adapted for the stage by other writers; e.g., World of Wonders by Elliott Hayes; and Tempest-Tost (Stratford Festival 2001) by Richard Rose.
From 1961 to 1981, he was the first Master of Massey College at the University of Toronto, where he taught English and dramatic literature. He was a Fellow of the Royal Society of Canada, a Companion of the Order of Canada, and has been awarded honorary degrees and literary prizes.
Reading: Susan Stone-Blackburn. Robertson Davies, Playwright, 1985.
Additional information provided by Pierre Karch and Christopher Hoile.
Last updated 2019-03-13