Hayes, Elliott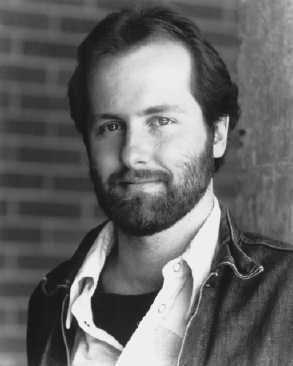 Elliot Hayes (photo courtesy of Ann Alycin Hayes)
Playwright born in Stratford, Ontario, June 22, 1956, died in a car accident February 22, 1994 in Fairview, Ontario.
He was born into a theatrical family, the grandson of classical actor George Hayes, and the son of John Sullivan Hayes, one of the original company members of the Stratford Festival who was also instrumental in the planning and organization of 27 consecutive seasons there, (The Stratford Festival of Canada Conservatory an outgrowth of the John Sullivan Hayes Programme for Theatre Training was named in his honor) and JoAnn (Elliott) Hayes who was instrumental in conserving the historic Stratford City Hall and was a founding member of Gallery Stratford. Hayes was surrounded in his childhood by the likes of Duke Ellington, Ravi Shankar and Robertson Davies, all friends of his family.
A graduate of the Old Vic Theatre School (Bristol) Elliott worked in Hollywood for several years before returning to Canada in 1981 where he served as the Stratford Festival's literary manager, dramaturge and occasional lyricist and assistant director until his death.The Elliott Hayes Award a prize in Dramaturgy given by The Literary Managers and Dramaturgs of the America's was created in his honor.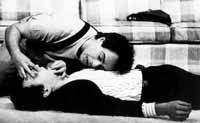 The 1996 revival of
Hard Hearts
by Elliott Hayes at the Berkeley Street Theatre, with Lorne Kennedy (top) and Michael McMurtry, directed by
Marti Maraden
His career was brief but produced several important works, including short stories, novels, poems and plays, the most notable being Homeward Bound which has been presented to resounding success across the country (premiering at Stratford in 1991). It is a tribute to his parents, both of whom died in 1993.
Other plays include: Blake (with music by Loreena McKennitt, Stratford, 1983), Happily Ever After (Solar Stage, 1993), Hard Hearts (Oldcastle Theatre, Bennington, Vermont, 1993), Life on Mars (Solar Stage, 1993), World of Wonders (adapted from Robertson Davies, Stratford, directed by Richard Rose, 1992).
(Additional information provided by Ann Alycin Hayes)
Last updated 2009-04-06