Flett, Sharry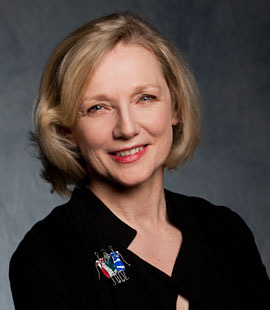 Sharry Flett
Ontario-based actor, with an extensive career at the Shaw Festival. Sharry Flett studied music at McGill University and theatre at Webber-Douglas Academy (London, England) before working at the Charlottetown Festival.
She played Kate to Len Cariou's Petruchio in the Stratford Festival's 1981 production of Taming of the Shrew, and went on to appear there for three seasons in She Stoops to Conquer, The Misanthrope, The Tempest and Translations. She has also acted at Canadian Stage and Theatre Aquarius among others.
Sharry Flett has been in Shaw Festival company for twenty-six seasons, performing a wide range of roles in fifty diverse works: War and Peace, Dangerous Corner, Major Barbara, Joy, Hobson's Choice, The Seagull, The Secret Life, Ladies in Retirement, Hedda Gabler, and twice in Getting Married (1989 and 1999). Also in 1999, she played Mrs. Danvers in the stage adaptation of Daphne Du Maurier's Rebecca. In 2000, she appeared in the company's production of A Woman of No Importance and Six Characters in Search of an Author. In 2003 she played Emma in an outstanding production of Blood Relations; and in 2005, she excelled in a production of Lillian Hellman's The Autumn Garden with Jim Mezon (dir. Martha Henry). In 2010, she performed in Linda Griffiths' The Age of Arousal. In 2014, she played Miss Triggs in The Charity That Began at Home, and in The Philadelphia Story.
She has also appeared frequently in film and on television, and has taught at George Brown Theatre School, the National Theatre School of Canada, Queen's University, and the University of Toronto.
Theatre awards include the Paul Reynolds Award at Shaw, and the Tyrone Guthrie Award at Stratford.
She is married to actor Anthony Bekenn and they have one daughter, Michaela.
Profile by Gaetan Charlebois. Additional information provided by Daniel Kessler, Christopher Hoile and Anne Nothof.
Last updated 2020-12-04