Hamilton, Patricia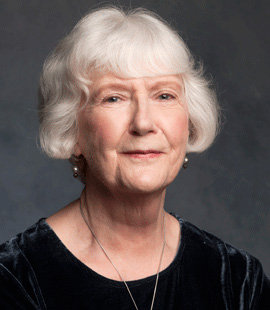 Patricia Hamilton
Versatile Ontario-based actor, born in 1938 in Regina, Saskatchewan, who has acted on television and film as well as on stage for five decades. She studied at Carnegie-Mellon (Pittsburgh) and London, England's Central School of Speech and Drama.
Her early career is notable for her performances in many important productions of new Canadian plays at the Tarragon Theatre, beginning in Tarragon's inaugural season with Jack Cunningham's See No Evil, Hear No Evil, and Michel Tremblay's Forever Yours, Marie-Lou (dir. Bill Glassco), both in 1972. She then performed in Battering Ram by David Freeman (1973), followed by roles in Joanna Glass's Artichoke (1976), and Margaret Hollingsworth Mother County (1980), all directed by Glassco.
In 1985, she played Albertine at age 50 in Tremblay's Albertine in Five Times, which then toured internationally. She played Albertine at 70 at the Shaw Festival in 2009.
Among other important productions of Canadian plays in which Patricia Hamilton has performed are the premieres of Judith Thompson's I Am Yours (1987); and Joan MacLeod's Amigo's Blue Guitar (Tarragon Theatre 1990) and Homechild (Canadian Stage 2006).
She has acted in major theatres across Canada, including Theatre Calgary, Grand Theatre, London, Manitoba Theatre Centre, National Arts Centre, Blyth Festival, Harold Green Jewish Theatre (Kindertransport 2008, dir. Christopher Newton), and Nightwood Theatre. She has also acted in the US and UK.
She was an ensemble member at the Shaw Festival for thirteen years, performing key roles in, among others, The Lady's Not For Burning, Lady Windermere's Fan, Heartbreak House (1999 and 2011), Easy Virtue (2000), and Laura (2001).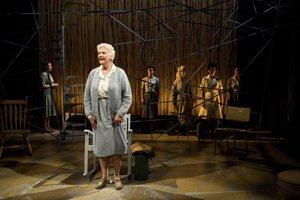 Patricia Hamilton as Albertine at 70 in Albertine in Five Times, Shaw Festival 2009.
Photo by David Cooper
Her best known role for television is undoubtedly Rachel Lynde in the CBC Anne of Green Gables series.
Patricia Hamilton was the founding producer of Masterclass Theatre, and director of The Advanced Actors Workshop at the Banff Centre for the Arts. She has received many awards, including two Dora Mavor Moore Awards.
Her son, Ben Carlson, is an actor, who has played major roles at the Shaw Festival for twelve years, and with Stratford Festival for twelve years.
Profile by Gaetan Charlebois. Additional information provided by Christopher Hoile.
Last updated 2021-01-21