Porteous, Cameron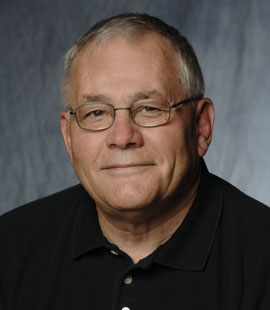 Cameron Porteous
Ontario-based designer, born in Rosetown, Saskatchewan in 1937. Cameron Porteous trained at the Wimbledon College of Art in London, England, and returned to Canada in 1969. He began his career at Vancouver Playhouse in 1972, working with Christopher Newton as head of design for ten years. Notably, he designed the premiere of Beverley Simons' Crabdance for Vancouver Playhouse.
However, he is probably best known for his long association with the Shaw Festival where he was head of design from 1980 to 1997. For the Festival he designed Trelawny of the `Wells', Mrs. Warren's Profession, Peter Pan, Major Barbara, Cavalcade, Androcles and the Lion, Caesar and Cleopatra, Cyrano de Bergerac, Saint Joan and A Flea in Her Ear. He returned to the Shaw Festival in 1998 to design sets for Joy and costumes for John Bull's Other Island, and again in 2000 to design Lord of the Flies. In 2005 he designed Journey's End for Shaw, and in 2011 Play, Orchestra, Play with director Christopher Newton at the George Theatre. In 2014, he created a convincingly claustrophobic apartment interior for A Lovely Sunday for Creve Coeur in the Court House Theatre.
He has created sets for Tarragon Theatre, Young People's Theatre, Royal Alexandra Theatre, Grand Theatre, London, National Arts Centre, Citadel Theatre, Arts Club Theatre, and Stratford Festival. His extraordinary minimalist and symbolic stage design for The Crucible (Theatre Calgary 2015) was configured as the frame of a barn, raised by the ensemble for each act to suggest an upstairs room, a court, and a prison, before a projected backdrop of a threatening forest. For The Humans at Theatre Calgary, he constructed the cross-section of a two-story house, which reveals the foibles of its inhabitants.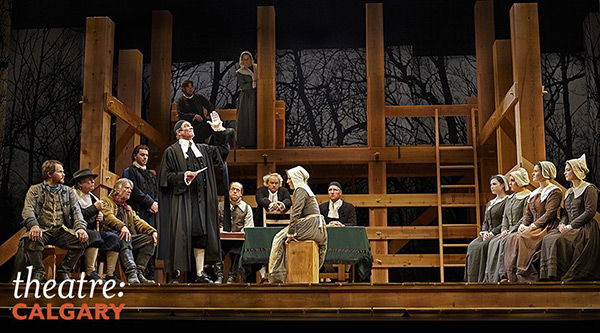 Production photo of "The Crucible". Photo by Trudi Lee
Porteous has also designed for opera, film and television. His design retrospective, "Risking the Void" appeared at the 2012 Prague Quadrennial
His awards include a Canadian Centennial Scholarship in London, England, and the Queen's Jubilee Medal for Contribution to Canadian theatre. He served on the Canada Council's Committee of Inquiry in Theatre Training in Canada in 1976-77, and on the Canada Council's Arts Advisory Panel from 1978 to 1981. He has taught design at the University of British Columbia, the Banff Centre for the Arts, and Ryerson University. He is a member of the Directors Guild of Canada and the Associated Designers of Canada.
Further Reading: Risking the Void: The Scenography of Cameron Porteous. Created by Sean Breaugh & Patricia Flood. Imprint: Theatre Museum Canada. Toronto: Playwrights Canada Press.
Profile by Anne Nothof, Athabasca University
Last updated 2021-07-30