Galluccio, Steve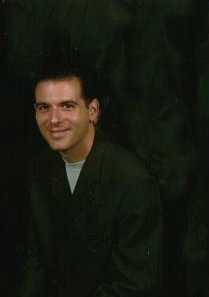 Steve Galluccio
Playwright and screenwriter, born October 9, 1960 in Montreal, Quebec, where he still lives. He studied at Concordia University.
Steve Galluccio first came to attention in 1990 with his play My Mom Was on the Radio, produced for the Quebec Drama Festival. During the next six years he was a favourite of the Montreal Fringe Movement, producing a kind of play which Montreal critic, GaŽtan Charlebois, coined the term "Gonzo Theatre" - fast, comic, and full of popular art and local references (and often with a gay sensibility). Among the works were She's The Queen, Brady Bunch - The Hidden Episode (What's Alice doing in the freezer?), Sex, Lies and Brian Mulroney, Batman and Robin: The Untold Story.
Galluccio subsequently produced his works outside of the Fringe to great success. These included Sexual Success in Montreal (1993), Peter 'n' Paul Get Mary'd (1995).
He began to write for television, notably for the Radio-Canada hit Un gars, une fille before sending his hit play Mambo Italiano to Michel Tremblay who translated it for a production at Compagnie Jean-Duceppe's 2000/2001 season.
In Galluccio's latest play, At the Beginning of Time, three gay men in their late fifties discuss life, love, and loss. In development at Centaur Theatre, it was streamed live in October 2020, when the Covid-19 pandemic closed theatres across Canada and the world. It is dedicated to the memory of Galluccio's husband, who died earlier of Alzheimer's in a long-term care facility in Montreal (dir. Jackie Maxwell.
Galluccio wrote the screenplay for the 2020 film, Little Italy, set in Toronto, about the star-crossed son and daughter of two warring pizza families.
Profile by Gaetan Charlebois and Anne Nothof
Last updated 2020-12-15