Ravel, Aviva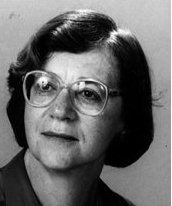 Aviva Ravel
Playwright and educator, born Aviva Bornstein in 1928 in Montreal, Quebec, whose works have been produced here and abroad. Her parents worked in a clothing factory. At 12, she becomes active in the Zionist-Socialist movement.
After high school she became a teacher and married Nahum Ravel. They entered Israel illegally and worked in the fields. Two of their children were born there. It was in Israel that Aviva Ravel became involved in theatre.
She studied playwriting in New York before returning to Canada to have her first work, Mendel Fish, produced at Hart House Theatre in 1967. She holds a doctorate from McGill University; her Ph.D. thesis was on playwright Patricia Joudry. She has taught English and drama at McGill, Concordia University, Université de Montréal and in Israel.
Many of her plays have been produced on CBC radio and in Israel. She is one of the co-founders of Playwrights' WorkshopMontreal.
Her plays include: The Twisted Loaf (premiered at Saidye Bronfman Centre/SBC, 1974, directed by Roy Higgins); Dispossessed (SBC, 1977, dir.Sean Mulcahy); The Courting of Sally Schwartz (La Diligence Dinner Theatre, 1990, directed by the author); Dance Like a Butterfly (School tour, Montreal, 1994, directed by the author); and Senior Moments (Stage 2, Pittsburgh 2009).
She has edited two books of Canadian plays. She has also translated some ten plays from English to French. Two of her plays were adapted for film.
Most of her work is set in the Jewish community of her native Montreal and deals with issues such as adoption, care for the elderly, the effects of the holocaust on victim and victimizer, the single woman in our society, and family relationships.
Ravel is the recipient of many awards including the Women Write for Theatre Award, J I Segal Award, Women's Press Club award for Humour, Quebec Drama Festival Award, Women's Federation Honoree for contribution to Montreal theate, and the Ministry of Cultural Affairs of Quebec Award. She has also been awarded an honorary membership by the Association for Canadian Theatre Research.
Last updated 2019-10-26