Joudry, Patricia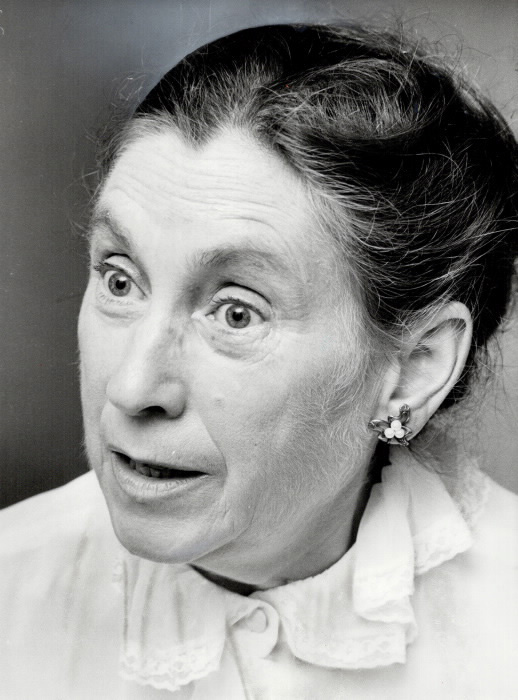 Patricia Joudry 1977. Photo courtesy of Toronto Public Library.
Playwright born in Spirit River, Alberta, October 18, 1921 died in Powell River, British Columbia, October 28, 2000.
She was raised in Montreal, but went to Toronto in 1940 to act and write. She became one of Canada's most frequently-produced radio drama writers, especially of comedy.
Her play, Teach Me How To Cry, was a winner at the Dominion Drama Festival, and has been produced world-wide and filmed. At its New York production, the piece was judged one of the best of the season.
Joudry was divorced from her first husband Delmar Dinsdale in 1952. Assisted by her second husband, the photographer John Steele, as producer, she attempted to finance the staging of her plays in Toronto, but was unsuccessful and moved to England in 1957.
Unable to make a consistent living from her playwriting, Joudry and her five daughters (Rafaele, Gay, Sherry, Stefania and Felicity) often struggled with dire poverty in England in the 1960s. With John Steele, she transformed a dilapidated fourteenth century English farmhouse in the Cotswold Hills of England into an alternative "free" school, constantly battling creditors and the conformist nature of compulsory public school education. For a decade her home Shornhill also became a spiritual centre where Joudry explored eastern religions, radionics, spiritualism and transcendental meditation. During this period she wrote dozens of experimental and metaphysical plays "transmitted" to her from the beyond by authors such as George Bernard Shaw, Shakespeare, Chekhov, O'Neill, Oscar Wilde, James Barrie and Willa Cather.
Joudry returned to Canada in 1973 after creditors finally closed down Shornhill. Tundra Books published two autobiographical accounts about her experiences in England. By the time she returned to Canada, Joudry's style of comic writing and spiritual themes failed to interest the newly emerging Canadian professional theatres of the 1970s and 1980s. Her comedy A Very Modest Orgy, produced by 25th Street Theatre in Saskatoon in 1981, was her first stage play to receive a production in Canada in twenty-four years.
Other plays include: The Sand Castle (1955), Walk Alone Together (1960), Semi-Detached (1960), Think Again (1982).
Profile by Anton Wagner, York University.
Last updated 2021-02-12