Verdecchia, Guillermo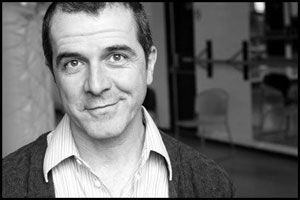 Guillermo Verdecchia
Playwright, director, translator and actor, Guillermo Verdecchia is committed to a theatre that "decolonizes the imagination." He acts out against the "culture of banality" that subsumes individuality and perpetuates social and racial stereotypes, and he works to foreground the diversity of cultures in Canada through his own plays, and through collaborative productions with others. He believes that the greatest failure of Canadian theatre is its failure to be politically relevant.
Verdecchia was born in Buenos Aires, Argentina, December 7, 1962 and came to Canada at the age of two. His early awareness of his "difference" from other children is enacted in his play Fronteras Americanas, when the teacher struggles to pronounce his name: "I am a minuscule boy with ungovernable black hair, antennae and gills where everyone else has a mouth." He grew up in Kitchener, Ontario, and studied theatre at Ryerson Polytechnic in Toronto. He has an M.A. in English and Theatre Studies from the University of Guelph, and is currently completing a Ph.D. at the Graduate Centre for Theatre Studies at the University of Toronto, while teaching at University College.
As an actor, he found himself typecast as a threatening "outsider" -- a bandito or Hispanic heavy. In his plays he explores the repercussions of displacement, and the possibility of creating a new mental geography which crosses racial and national borders.
His first work, i.d. (1989), co-written with members of Canadian Stage Hour Co., is about the police shooting of a teenager in Toronto, and won the Chalmers Award for a new play. It premiered at Canadian Stage, directed by Richard Greenblatt. His next play, Final Decisions (WAR), premiered at Calgary's Alberta Theatre Projects in 1990, directed by Sharon Pollock. It is set in Argentina during the "Dirty War" of 1976–83, when leaders of the military junta were persecuting "leftist subversives and terrorists," and focuses on a woman's discovery that her husband has been involved in political torture.
In 1990 he wrote The Noam Chomsky Lectures with Daniel Brooks, which again won a Chalmers Award. Using a lecture format, Brooks and Verdecchia play themselves, attempting to make Chomsky's political views on mass media and consumerism accessible to a wide audience, linking foreign affairs to particular Canadian locales. Originally produced at the Rhubarb Festival, Toronto in 1990, parts of the play were rewritten for productions at Theatre Passe Muraille and Great Canadian Theatre Company over a period of three years, to keep it current and relevant. Verdecchia believes in theatre as an evolving process, not a finished product, and works to break down divisions between audience and performers.
In 1993 his one-man show, Fronteras Americanas, premiered at the Tarragon Theatre's Extra Space. It was subsequently produced at Festival de Théatre des Amériques (now Festival TransAmériques) in Montreal, then remounted on Tarragon's main stage, before moving to the Manitoba Theatre Centre and Vancouver Playhouse. In 2011, it was remounted by Soulpepper Theatre Company. In all of the productions Verdecchia has played himself and his alter-ego, Wideload, a flamboyant Latino stereotype. The play is an attempt to resist the objectification effected by naming in terms of race and place through the formation of an "oppositional consciousness." The Verdecchia persona reflects on his experiences as an immigrant to Canada. He provides a history lesson on the diaspora of "Latin" peoples in order to construct for himself an historical context. Ironically when he returns "home" to Argentina, and he again finds himself an outsider. Wideload comments sarcastically on his reception by a "Saxon" population and contrasts the physical and sexual makeup of a "Latino" with that of a "Saxon." In the concluding episode, the character Verdecchia asserts that he is building a house on the border, and challenges the audience to consider and celebrate the rich ethnic makeup of those who call Canada home. Fronteras Americanas won a Chalmers Award and a Governor General's Award. Verdecchia also wrote and starred in a short film adaptation of Fronteras Americanas, called Crucero/Crossroads, which played at film festivals around the world and received nine international awards.
His production of Dennis Foon's War, won Vancouver's Jessie Richardson Award in 1994. In the same year he appeared as the Salvadoran refugee, Elias, in Joan MacLeod's Amigo's Blue Guitar.
In 1995 he wrote A Line in the Sand with Marcus Youssef for the New Play Centre (now Playwrights Theatre Centre in Vancouver. It was revised and produced at the Tarragon Theatre and the duMaurier World Stage Festival in Toronto in 1996, directed by Verdecchia. Two young men, one a troubled Canadian soldier, the other a teenage Palestinian smuggler, meet in the scorched Qatari desert during Operation Desert Shield in 1990, and become unlikely friends. But their relationship is fractured by the torture and murder of a 16-year-old Palestinian inside the Canadian base. A Line in the Sand won a Chalmers Award in 1997.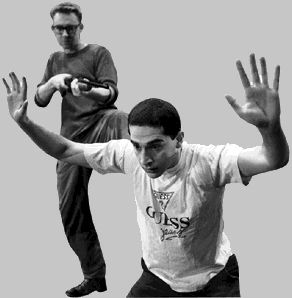 A Line in the Sand
Verdecchia's duet for voice and cello, The Terrible but Incomplete Journals of John D was first produced as a live-to-air radio/theatre event by Rumble Theatre in Vancouver in 1996. It portrays the self-destructive guilt of a man adrift in Mexico City who can do nothing against the exploitative consumerist forces of western society. Verdecchia again explored the spiritual emptiness of consumerism in Insomnia (1998), written in collaboration with Daniel Brooks, and in which both playwrights performed. Insomnia was part of the 1999 Festival de Théatre des Amériques.
In 1999 he also directed the Tarragon production of Carmen Aguirre's Chile con carne, and appeared in Brooks' The Good Life in 2002. In 2009, he directed Sunil Kuruvilla's Rice Boy for the Stratford Festival.
In 2004, Verdecchia wrote the political satire, Ali & Ali and the Axes of Evil with Marcus Youssef and Camyar Chai, and directed productions in Toronto, Vancouver, and at the Magnetic North Theatre Festival in Edmonton. Billed as a "divertimento for warlords" it takes a wild and wide swipe at American aggressive imperial practices. Two guys from the "Middle East" find themselves in North America post 9/11 during the "War on Terror," and attempt to survive by selling. In 2010, for Neworld Theatre, he co-created an "Ali" sequel with Youssef and Chai: Ali & Ali: Hey Brother (Or Sister) Can You Spare Some Hope & Change. The Agrabanian refugees return in even worse shape to confront an economic meltdown and martial law. Reconfigured as Ali & Ali: The Deportation Hearings, it opened at the Factory Theatre in September 2010.
His play, bloom (Modern Times Stage Company 2006, dir. Soheil Parsa), unsparingly interrogates the constant state of warfare in the world, drawing on the apocalyptic images of T.S. Eliot's Wasteland. "A war orphan and a war veteran live on the fringes of a ruined world – one is trying to remember, while the other is trying to forget... bloom is a humorous and haunting story of despair and hope played out between an old man with a decaying soul, and the boy who may bear the seeds of his redemption" (Buddies in Bad Times website). It was remounted in 2018 at Buddies in Bad Times, again directed by Parsa. Bloom is published with Another Country, a retitled version of his early play, Final Decisions [War] by Talonbooks.
In October 2014, Factory Theatre and QuipTake Theatre produced the Summerworks 2013 hit, The Art of Building a Bunker by Verdecchia and Adam Lazarus (dir. Verdecchia), a caustic satiric look at a friendless, sexist bigot named Elvis Goldstein, who endures mandatory workplace sensitivity training, surrounded by a wide range of bizarre characters, all played by Adam Lazarus. Elvis is so anxious about global violence and environmental entropy and their consequences for his family, that he retreats at night to a bunker in his basement.
From 1998 to 2003 Verdecchia was Artistic Director of Toronto's Cahoots Theatre Projects, which has a mandate to create, develop, and produce new Canadian plays that reflect the country's cultural diversity. For Cahoots he directed Bhopal by Rahul Varma(2003), and dreams of blonde and blue by M.J. Kang (2002). In 2010 he assisted in the development of Jovanni Sy's A Taste of Empire for Cahoots, and directed the production in Toronto's Marketplace. In 2009, for the Stratford Festival, he directed Rice Boy by Sunil Kuruvilla.
Verdecchia has also written for radio and film, and has published a collection of short stories entitled Citizen Suarez (1998). He has been writer-in-residence at Memorial University and the University of Guelph, and is currently a lecturer at University College, University of Toronto. He is an associate artist at Soulpepper Theatre, and teaches at the Soulpepper Academy.
He has published articles on intercultural performance, memory, and Latin-Canadian playwrights.
Profile by Anne Nothof, Athabasca University
Last updated 2021-10-19