Modern Times Stage Company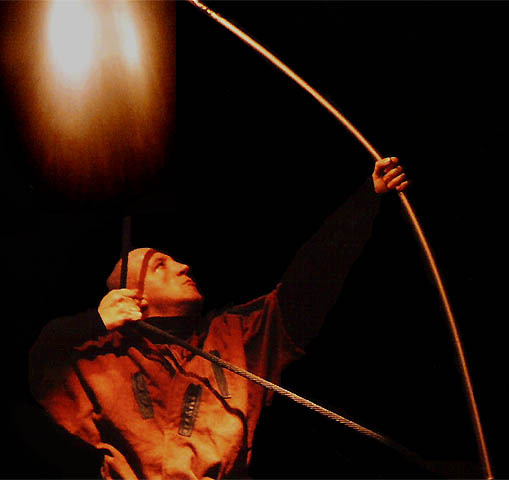 Ron Kennell
in
Aurash
, Fadjr International Theatre Festival, Tehran, Iran, 2002 Photo by Hassan Taheri
An artistic collaborative, based in Toronto, Ontario, devoted to offering culturally inclusive, alternative theatre. The company was founded in 1989 by Artistic Director Soheil Parsa and actor Peter Farbridge to produce works that transcend cultural and political borders. Productions are characterized by Parsa's integration of Western and Persian theatrical forms.
Modern Times has received ten Dora Awards and forty nominations. The company's repertoire includes new Canadian creations, classic European works and original translations of Iranian plays. Eight Iranian plays have received their North American premiere including Bahram Beyza'i's Aurash (Theatre Passe Muraille, 1998) and Abas Na'lbandian's Stories from the Rains of Love and Death (Artword Theatre, 2003) which received Dora Awards for Outstanding Direction and Outstanding New Play for Parsa and Farbridge's co-translation/adaptation. In April 2016, Parsa translated and directed Braham Beyzaie's The Death of the King The Theatre Centre) to critical acclaim.
Other productions include Macbeth (Buddies in Bad Times Theatre, 1995); Parsa's The Daughters of Shehrezad (Artword, 2000); bloom (The Theatre Centre, 2006) written by the company's Playwright-in-Residence Guillermo Verdecchia; an English translation by Bobby Theodore of The Sheep and the Whale by Moroccan Canadian Ahmed Ghazali (with Cahoots Theatre Projects at Theatre Passe Muraille in 2007), and Waiting for Godot (Young Centre for the Performing Arts, 2008). In March 2015, Modern Times co-produced Federico Garcia Lorca's Blood Wedding with Aluna Theatre at Buddies in Bad Times (translated by Langston Hughes, and directed by Parsa). This production won six Dora Awards in the independent theatre division: production, outstanding performance (female) for Beatriz Pizano, director, lighting, costume, and scenic design.
Modern Times is also a strong advocate of social action through theatre, with an active "Social Creations" program that includes outreach to youth and excluded communities, as well as international touring that extends the company's mandate of borderless collaboration.
Parsa has directed a Spanish language production of Aurash in Havana, Cuba (1999) and presented both Aurash (2002) and Macbeth (2003) at the Fadjr International Theatre Festival in Tehran, Iran. In 2009, Modern Times produced a Serbian-Croatian language production of Aurash in Mostar, Bosnia-Herzegovina as the centerpiece of an interdisciplinary peacebuilding initiative combining theatre, film and peace and conflict resolution. In 2010, Aurash was produced at the Young Centre for the Performing Arts in Toronto.
In 2007, Parsa was short-listed for the Siminovitch Prize in Theatre for his work as a director, a testament to the body of work Modern Times has created throughout its twenty year history. In 2021, after thirty-one years as Artistic Director, Parsa announced his retirement from the position.
Additional Reading: Ric Knowles. "The Modern in Modern Times," Canadian Theatre Review 139 (Summer 2009): 63-68.
website: www.moderntimesstage.com
Last updated 2021-06-02