Theodore, Bobby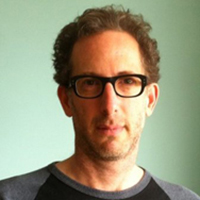 Bobby Theodore
Translator, playwright, and screenwriter, born in Montreal Quebec, who as of 2020 has translated twenty-five plays from French to English. Bobby Theodore graduated with a Bachelor of Arts in Creative Writing from Concordia University in 1994, and from the National Theatre School of Canada's playwrights program in 1998.
He is probably best known for his translations of François Archambault's plays, including 15 Seconds (playRites 1999), for which he was nominated for a Governor General's Award in 2000. Translations of Archambault's other works include: The Leisure Society (Trafalgar Studios, New York, 2012), and You Will Remember Me (Alberta Theatre Projects, 2014). He has translated the works of Quebec playwrights Geneviève Billette (Crime contre l'humanité, University of Alberta, 2007), Nathalie Boisvert, and Olivier Choinière (Trains and Zoé). In 2016, he translated The Just by Alberta Camus for Soulpepper Theatre Company.
Theodore has no formal training in translation. It is an intuitive process. When possible, however, he works closely with the playwright: "I like to tell people that when I translate, I get inside the playwright's skin, wearing it like a cloak, like a child playing make-believe." (The Accidental Translator)
His radio play, The Ball and the Pins was produced by the CBC in 1998. Gravity premiered at Monument National, also in 1998. With Canadian choreographer, Ame Henderson, Theodore created 300 Tapes (The Theatre Centre and Alberta Theatre Projects, 2010). A collection of 100 stories recorded on 100 mini cassette tapes, are repeatedly performed by three actors. The stories may or may not be personal memories, and they change with each repetition. Moreover, the audience does not know whose stories they are.
Theodore has worked as a writer and story editor of several Canadian television shows, including Instant Star (2006), Murdoch Mysteries (2008), Cra$h and Burn (2009), and Flashpoint (2010-2011). He also wrote an episode the CBC radio drama series, Afghanada.
From 2016 to 2019 he was the host and resident dramaturg of the Glassco Translation Residency in Tadoussac, Quebec, a collaborative retreat for Canadian playwrights, translators and adaptors.
Bobby Theodore currently lives in Toronto.
Profile by Anne Nothof, Athabasca University.
Last updated 2020-05-06