Billette, Geneviève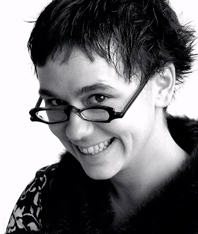 Geneviève Billette
Playwright and translator, born 1971 in Quebec City, where she grew up, and currently based in Montreal Quebec, where she teaches at UQAM. She graduated from the Université de Montréal with a B.A. degree, and attended the National Theatre School of Canada, when she wrote her first work, L'homme qui a vu l'homme (Monument National 1999, dir. René-Daniel Dubois). A revised version of the play, entitled Le gouteur, premiered in 2002 at Espace Go, produced by Théâtre Petit à Petit, and directed by Claude Poissant. Crime contre l'humanité also premiered at Espace Go, produced by Théâtre Petit à Petit in 1999 (dir. Poissant). It was translated into English by Bobby Theodore, and premiered at the University of Alberta in 2007 (dir. Ian Leung). The play's preoccupation with mortality and corruption, and its disturbing, visceral images, startled audiences and critics.
Her next work, Le pays des genoux opened in France in 2005. It won the Governor General's Award in 2005. Recent plays include Les ours dorment enfin (2010) and Contre le temps (2012), which also received the Governor General's Award.
Billette has also written three radio plays for Radio-Canada: Gina Ping Pong, De la barbe a la queue, je suis délicieux, and Bascules.
In 2000-2001 she was writer-in-residence at Théâtre Carrousel and at the Festival International des Théâtres Francophones in Limoges, France. Her plays are published in English by Playwrights Canada Press.
Source: Louise H. Forsyth, "About Geneviève Billette," Quebec Women's Plays (1987-2003). Toronto: Playwrights Canada Press, 2006.
Last updated 2020-04-24