Kang, M.J.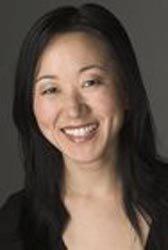 M.J. Kang
Playwright, actor, M.J. (Myung-Jin or "Bright Star-Skylark") Kang was born in Korea and immigrated to Toronto Ontario with her family when she was two years old.
He father is Woo-suk Kang, a bank manager in Seoul, currently a realtor and owner of a variety store in Toronto; her mother is Chun-Ja Sung Kang, a chemistry professor in Seoul, now a teacher of Origami and Korean language. At seventeen she left home and lived in a Toronto hospice. She began her acting career in an anti-drug show for teenagers for the Tavishtown Festival in Toronto. She then scored a role in a remount of The Farm Show at Theatre Passe Muraille, and was encouraged by Paul Thompson to write her own material. Noran Bang: The Yellow Room is based on her own family's experience as immigrants (Cahoots Theatre Projects, 1993, dir. Guillermo Verdecchia), in which she played the part of the daughter. It was nominated for a Dora Mavor Moore Award. Her other plays include Hee Hee: Tales From the White Diamond Mountain (Blyth Festival 1997); Simply Fred (Toronto Fringe Festival 1997); Blessings (Tarragon Theatre 1996, dir. Sally Han); and Dreams of Blonde & Blue (Theatre Passe Muraille 2000), which is also autobiographical.
In the ironically titled play, Blessings, the young protagonist flies to Korea to "recreate Home" in order to reconcile cultural and personal memories. She finds that she is neither wholly Korean nor Canadian, and mistaken for a "foreigner" in both countries, and that she must construct her own sense of self and belonging. The play's use of both Korean and English disrupts the linguistic authority of the English language.
In 1998, after acting in a TV series, she left for New York, and interned for Pan-Asian Repertory at La MaMa, where she met Canadian-born playwright/architect Oren Safdie. They married in 2000. In New York, she has acted in off-Broadway productions. She now lives in Los Angeles, California, and is raising her daughter.
In June 2013, she returned to Toronto with her daughter to perform in her own play about a mother/daughter relationship, Stay With Me (dir. Safdie) for FringeKids. More recently, she has been engaged in storytelling, as one way of creating a sense of belonging and community identity. She volunteered as a poll worker for the 2020 election in the US, which afforded her ample material for one of her stories.
Further reading: Caroline De Wagter. "Re-configuring Cultural Memory in Chay Yew's Wonderland and M.J. Kang's Blessings," Signatures of the Past: Cultural Memory in Contemporary Anglophone North American Drama. Eds. Marc Maufort and Caroline De Wagter. Bruxelles: P.I.E. Peter Lang, 2009.
Profile by Anne Nothof, Athabasca University
Last updated 2021-02-13