Lambert, Betty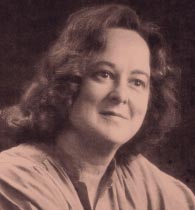 Betty Lambert
Playwright, prose writer and academic, born 1933, died 1983. she was the author of one published novel, numerous stories and stage plays, and many radio dramas. She is best known for her last plays, Jennie's Story (Saskatoon: Canada Theatre Today Conference, 1981) and Under the Skin (Vancouver: Waterfront Theatre, 1985). Lambert's large body of work, much of it radio drama, has received scant critical attention. Those who explore her work widely will find common threads of concern—moral, political, metaphysical, aesthetic—which link her disparate works of fiction. They are characterized by a philosophical bent, a sophisticated literary orientation, and a professional attention to craft.
Betty Lambert and her two sisters were raised in Calgary, Alberta. Her father died in a boating accident when she was only twelve. She wrote, "[When my] father died … I was no longer `working class,' I was `welfare class' and I was determined to get out of that class." Writing was one way and she regularly wrote stories and sent them off in the post. Since she was ill for much of her early life, her accomplishments are all the more remarkable.
Lambert finished high school by correspondence and then took an arts degree in English and Philosophy at the University of British Columbia. To finance this, she had numerous part-time jobs. In 1965 she began teaching at Simon Fraser University in Vancouver until her death in 1983. A charter member of the new university, she taught courses in modern Greek drama, Shakespeare, linguistics, and contemporary drama, among others.
Autobiographical and historical material is regularly present in Lambert's work: for example, in her novel Crossings (Pulp Press, 1979); in the play Clouds of Glory, which opened at the New Play Centre in 1979 (now Playwrights Theatre Centre), which satirizes Simon Fraser politics, or the actual events which are the basis for Jennie's Story and Under the Skin. But what better characterizes her work is her fighting spirit, her moral skepticism, and her audacious handling of unconventional subjects. Even her plays for children are daring for their time: see, for example, The Riddle Machine (Holiday Theatre, Vancouver, 1966) where Lambert raises the spectre of unreflective authoritarianism, dope-taking dropouts, and the existential reality of what it means to grow up and take responsibility. The Song of the Serpent (Holiday Theatre) and Tumult with Indians (CBUT Television), both performed a year later, raise the bar on suitable subjects for children, even daring to include the taboo topics of sex and death.
In her plays for adult audiences, issues around women in relationships and gender power dynamics are always present in a manner that provokes and challenges the status quo. A sense of outrage at the limitations placed on women virtually explodes in her last, best works: Grasshopper Hill (CBC Radio: Festival Theatre, 1979), Jennie's Story and Under the Skin. But even here, her outrage is not simply based on gender imperatives. In every play, complicated moral and ethical issues refuse a simplified clarity. This is profoundly true of the little-known award-winning radio play, Grasshopper Hill, in which she illuminates the dark forces which always intrigued her, even her own.
Betty Lambert, a serious writer, also wrote some popular comedy. Sqrieux-de-Dieu (New Play Centre, 1975), which was her first play to grab media attention and box office success, makes us laugh at the trendy counter-culture antics of the middle-class, middle-aged professorial set. Performed at Festival Lennoxville in the summers of 1976 and 1977, Sqrieux-de-Dieu was their biggest box office hit. Mainly, however, Betty Lambert will be remembered for her more difficult plays. She was a writer who lived and wrote defiantly, subversively.
Other stage plays include: The Visitor (Playhouse Second Stage, 1969); World, World, Go Away! (Playhouse Holiday, Vancouver, 1970); The Good of the Sun (University of Victoria, 1970); Once Burned, Twice Shy (New Play Centre, 1972).
Further Reading: Cynthia Zimmerman, ed. The Betty Lambert Reader. Toronto: Playwrights Canada Press, 2007.
Profile by Cynthia Zimmerman, Glendon College, York University
Last updated 2015-11-03