Henry, Martha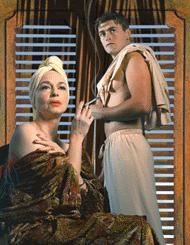 Actor and director, who performed in a wide range of roles for forty-seven seasons at the Stratford Festival, and in theatres across Canada for sixty years. Martha Henry was born Martha Buhs in Detroit, Michigan, February 17, 1938; died October 21, 2021 of cancer in Stratford at the age of 83. She studied theatre at the Carnegie Institute of Technology in Pittsburgh, and arrived in Canada in 1959 to audition and work for the Crest Theatre. There she met Powys Thomas and was urged by him to continue her training at the National Theatre School of Canada. She then performed at the Manitoba Theatre Centre in 1961, beginning a professional friendship with director John Hirsch that would continue until his death.
Since her début at the Stratford Festival in 1962 as Miranda in Shakespeare's The Tempest, and as Lady Macduff in Macbeth, she has played dozens of leading roles in the contemporary and renaissance repertories, including thirty Shakespeare plays. In 1967, she made her debut at the Shaw Festival in Arms and the Man.
Between roles offered by Hirsch and Robin Phillips, Henry would impress many of Canada's theatre critics. A quintessentially typical season would come for her at Stratford in 1976 when she revived her admired interpretation of Isabella in Measure for Measure and also turned in a magnificent version of Olga in Chekhov's Three Sisters (directed by Hirsch and starring Marti Maraden and Maggie Smith).
Troubles followed, however, when Stratford, in a state of chaos following the Phillips regime, appointed Henry co-artistic director with three others. The concept was a disaster from the start and the journalistic, political and artistic debacle resulted in Henry leaving the Festival for several years. She returned to assist Phillips in his production of Cymbeline in 1986, and was the Company's Associate Director, 1987-88. (See Documents of Interest - A Stratford Tempest, December 6, 1980).
Henry appeared opposite her third husband, Rod Beattie, in the Stratford production of Macbeth (1999), in Who's Afraid of Virginia Woolf (2001), and as Lady Bountiful in The Beaux' Stratagem (2014). In 2018, at the age of 80, she played the role of Prospero in The Tempest. In 2020-21 season, she played the Duchess of York in Richard III, and "A" in Three Tall Women by Edward Albee.
Martha Henry acted at Tarragon Theatre, Theatre Calgary, Theatre Aquarius, Centaur Theatre, and Grand Theatre, London (Waiting for the Parade 1983). She toured with Rod Beattie in A.R. Gurney's Love Letters, and won an Sterling Award for her performance in the Citadel Theatre's production of Wit. In 2020, she played an 85-year-old woman with dementia, living at a nursing home and attended by a robot, in Marjorie Prime at Coal Mine Theatre (dir. Stewart Arnott).
She has acted extensively on television and in movies (where she has won many awards).
Martha Henry was also an accomplished director. She made a convincing 1980 début directing Douglas Rain in the taut Stratford production of Brief Lives. In 1988, she was appointed Artistic Director for the Grand Theatre, London. Her Stratford production of Richard II (1999) received phenomenal reviews, as did her production of the premiere of Timothy Findley's Elizabeth (2000). She directed Morris Panych's play Vigil at the River Run Centre in Guelph, Ontario, in November, 2000; Joan MacLeod's Homechild at Canadian Stage in 2006; Ibsen's Hedda Gabler at the Shaw Festival in 2012; and Brecht's Mother Courage at Stratford in 2014. In 2016, she directed All My Sons at the Patterson Theatre in Stratford, with black actors in several roles.
She has said of approaching a play, "I can't remember a play that has interested me if I don't understand who the people are and what they're about. Plays with relevant social issues that use cardboard characters as mouth pieces to express them don't interest me. I'm not interested in pageants. It's the people always--and what happens between them that hooks my interest."
Director Diana Leblanc has said of Martha Henry, "She seems to come in on the first day of rehearsal with an enormous, rich character and you wonder how she can get better...but she does!"
She was made a Companion of the Order of Canada in 1981. In 1989, she received the Toronto Drama Bench Award for Distinguished Contribution to Canadian Theatre; and in 1996, a Governor General's Award for Lifetime Achievement.
She has one daughter, (with Douglas Rain) -- Emma.
Readings: Martin Knelman. A Stratford Tempest. Toronto: McClelland and Stewart, 1982.
Viewings: Life and Times; Martha Henry, CBC TV, 1998.
Profile by Gaetan Charlebois. Additional information provided by Lindy Cooksey, Joel Greenberg, Christopher Hoile and Claire Sedore.
Last updated 2022-11-29