Coal Mine Theatre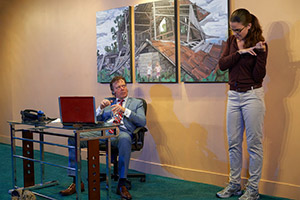 Ted Dykstra and Diane Bentley in Instructions to Any Future Socialist Government Wishing to Abolish Christmas. Photo by Michael Cooper.
Independent theatre company, founded in 2014 by Diana Bentley and Ted Dykstra. It was located in an 80-seat storefront space on Danforth in Toronto's east end. Coal Mine Theatre's mandate is to present well-written, thoughtful and challenging plays with a high standard of acting.
The company launched with a production of The Motherf**ker With The Hat, starring Dykstra. For the second season premiere, Dykstra directed The River. In May 2016, Coal Mine presented the challenging Canadian play, Instructions to Any Future Socialist Government Wishing to Abolish Christmas by Michael Mackenzie (dir. David Storch) with Dykstra as a ruthless hedge fund manager and Bentley his former assistant following the 2008 financial collapse.
For the 2016/17 season Coal Mine Theatre mounted the Toronto premieres of three international plays, and a Christmas show: Breathing Corpses by English playwright, Laura Wade (dir. David Ferry); Superior Donuts by American playwright, Tracy Letts; A Child's Christmas in Wales by Dylan Thomas; and Orphans by English playwright, Denis Kelly (dir. Leora Morris).
In 2018, Ron Pederson was appointed Artist in Residence.
The 2017/18 season included a production of Category E by Edmonton playwright and actor Belinda Cornish. In February 2019, Dykstra directed The Father by Florian Zeller (trans. Christopher Hampton) with Eric Peterson in the title role. David Harrower's harrowing play, Knives in Hens (dir. Leora Morris) opened in September 2019 with a loaded cast: Diana Bentley, Jim Mezon, and Jonathon Young. In January 2020, Martha Henry played an 85-year-old woman with dementia, living in a nursing home, and attended by a robot, in Marjorie Prime by Jordan Harrison. The play won Dora Mavor Moore Awards for outstanding production and direction by Stewart Arnott.
The theatre was dark in 2020/2021 because of the Covid-19 pandemic, which closed theatres across Canada and around the world.
In 2022, a fire in the venue delayed the production of Jani Lauzon's Prophecy Fog until the next season. Other scheduled plays were Lucy Prebble's The Effect, and the Canadian premieres of Simon Stone's Yerma and Adam Rapp's The Sound Inside.
In 2024, .. DION: A Rock Opera will premiere at the east-end company's new space in February as part of its four-show 2023/2024 season. Besides being a global debut, it also marks the first time a show has been developed by the company.
Website: www.coalminetheatre.com
Last updated 2023-08-08