Pederson, Ron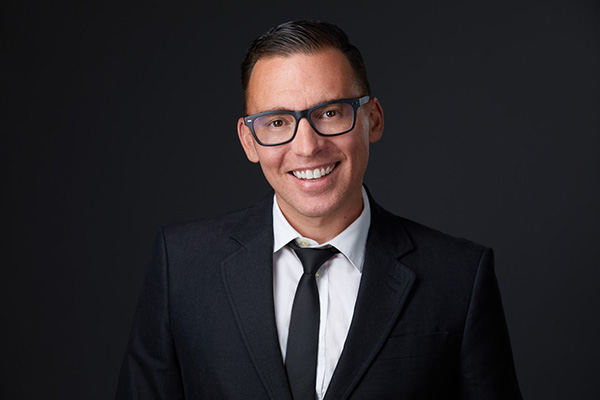 Ron Pederson. Photo by Ryan Parker.
Actor and director, born in Edmonton Alberta in 1978. Ron Pederson joined the vibrant Edmonton theatre scene at the age of eight. He studied acting at the Citadel Theatre School from 1987 until 1991, when he was invited to join the theatre troupe, Teatro La Quindicina by playwright Stewart Lemoine, the beginning of a strong artistic relationship. Throughout the nineties, Pederson worked with every major theatre company in Edmonton and extensively on the new works of Stewart Lemoine. For Pederson, "Stewart Lemoine was [his] theatre school."
Pederson's range as an actor/singer has led to many different projects, from large scale musicals to small experimental works, from Stephen Sondheim's Into the Woods to Romeo and Juliet (playing Romeo). He has worked with directors Robin Phillips (Oliver!), Duncan MacIntosh, Ron Jenkins, David Storch and Bob Baker. He also worked at the Vancouver Playhouse in 1999.
Pederson has been nominated for six Elizabeth Sterling Haynes Awards, two for best supporting actor (Deux Durang in 1998 [Dir. Marianne Copithorne], The Beauty Queen of Leenane in 2002); two for best actor (Burt in 1994, Little Shop of Horrors in 2000); for outstanding performance for young audiences (Dunk! in 1996); and for outstanding musical score for his compositional work on Chris Craddock's play The Critic in 2000. He was awarded the Sterling for his performance in the Citadel Theatre's production of The Beauty Queen of Leenane. In 2018, he won another Sterling for Outstanding Actor in a Fringe Production for his role in No Exit.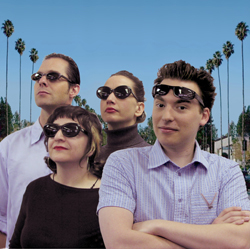 The Margin of the Sky
by Stewart Lemoine
R. to L. Leo: Ron Perderson; Sheila: Cathy Derkach; Alice: Leona Brausen; Spence:
Jeff Haslam
Photo by Peter Edwards, Dimensions Graphic Studio.
In 1995 he joined the cast of the Legendary Live Completely Improvised Soap Opera Die-Nasty with whom he performed every Monday night at the Varscona Theatre in Edmonton for eight years. It was with "Die-Nasty" that he honed his improv skills with a crack team of local actors and guest stars such as Mark McKinney, Mike Myers and Joe Flaherty. Flaherty invited Pederson to participate in the Los Angeles improvised soap opera The Soap Also Rises in 2002, where he performed with comedians Fred Willard, Katharine O'Hara and Martin Short. From 2002 to 2005 he joined the cast of Madtv and became a favorite regular on the program, again showcasing his versatility. In 2005 he was nominated for a Canadian Comedy Award for his work on Mad TV's tenth season. He has also written and performed original sketches on CBS's Late Late Show with Craig Ferguson.
In 2011 he won a Canadian Comedy Award for Best Male Improviser.
Pederson has returned to Edmonton regularly to perform with Teatro La Quindicina in the plays of Stewart Lemoine, included a remount of Shockers Delight! in 2004; A Grand Time in the Rapids in 2005 (remounted in 2012); Happy Toes in 2008 (remounted in 2014); Mother of the Year in 2009; For the Love of Cynthia in 2016; and Skirts on Fire in 2018. In 2017, he directed a remount of Shockers Delight! for Teatro, and in 2018, he played a very funny Earnest in Oscar Wilde's infamous play.
In the summer of 2007 he played two cameo roles in productions of The Winter's Tale and the musical version of Two Gentlemen of Verona by the Free Will Players at the River City Shakespeare Festival. Also in 2007 he starred in the Canadian Stage 's production of Little Shop Of Horrors (dir. Ted Dykstra). In 2009, he played the challenging role of a boy imagining himself as a wolf in Extinction Song by Ron Jenkins (Citadel Theatre). In 2011, he played Quasimodo in Catalyst Theatre's production of Hunchback.
In 2012, with Daniela Vlaskalic, he formed The Theatre Department company in Toronto. To celebrate Edmonton's Teatro La Quindicina's thirtieth anniversary, he directed Lemoine's two-hander The Exquisite Hour in The Theatre Department production in Factory Theatre's studio space, starring Ted Dykstra and Daniela Vlaskalic. In January 2014, he played Jack Vail, the imaginative sailor in Lemoine's Pith! again with Vlaskalic and Amy Matysio, directed by Ron Jenkins. Globe and Mail critic J. Kelly Nestruck described the play as "a charming little comedy, with an undertow of sadness, that demonstrates the power of positive thinking" (17 Jan 2014).
In 2013, Pederson played Lancelot Gobbo in the Stratford Festival production of The Merchant of Venice. In 2015, he played one of the brothers in Daniel MacIvor's The Best Brothers with John Ullyatt at the Belfry Theatre. In 2018, he was named Artist in Residence at Coal Mine Theatre, and appeared in The Wonder Pageant.
Ron Pederson currently lives in Toronto, where he is co-artistic director of an improv company called "The National Theatre of the World" which improvises full-length productions of lesser-known works by famous playwrights. It also improvises plays from two pages provided by Canadian playwrights, such as Daniel MacIvor, Judith Thompson, and Brad Fraser—an escapade called "The Script-Tease Project." He returned to Edmonton in August 2021 for an improv role in "Gordon's Big Bald Head: Master Thief Theatre" with Mark Meer and Jacob Banigan.
He believes that "in theatre we're in the transportation industry!" (Sterling Awards speech, 2018) - taking people on a journey.
Last updated 2021-08-23