Bowman, Martin
Quebec-based translator who, with Bill Findlay of Scotland, has translated the works of Michel Tremblay, Jeanne-Mance Delisle and Michel Marc Bouchard for Scots and Canadian audiences.
Martin Bowman's parents immigrated from Scotland; he was born in the working class district of Verdun, in Montreal.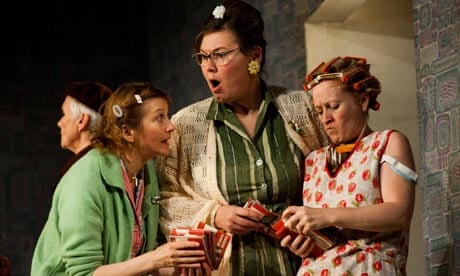 The Guid Sisters, Royal Lyceum, Edinburgh. Photo by Richard Campbell, The Guardian 26 Sept 2012
Many of his translations have been performed at Traverse Theatre in Edinburgh, including Tremblay's Les Belles-soeurs as The Guid Sisters (also played at Centaur Theatre) and Messe solonnelle pour une pleine lune d'été as A Full Moon in Summer; Delisle's Un reel ben beau, ben triste as The Reel of the Hanged Man; and Bouchard's Les Feluettes.
In 1998, at the invitation of Pierre Bernard, Artistic Director of Théâtre de Quat'Sous, he collaborated with Wajdi Mouawad on a French translation of Harry Gibson`s dramatic adaptation of Irvine Welsh`s novel, Trainspotting.
Martin Bowman has also taught at Champlain College on the South Shore from the Island of Montreal.
Source: Stéphane Baillargeon."Un joual vivant dans la gorge," Le Devoir, 11 April 2000.
Profile by Gaetan Charlebois and Anne Nothof
Last updated 2020-05-14