Andrea, Guillermo de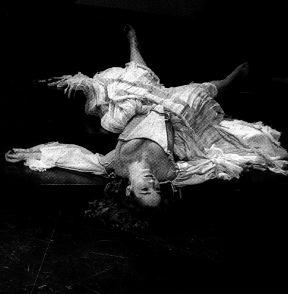 Théâtre du Rideau Vert's 1993 production of
Shakespeare
's
Nuit des Rois/Twelfth Night
, directed by
Guillermo de Andrea
with Linda Roy (photo: Guy Dubois)
Quebec-based director and educator. After the death of Yvette Brind'Amour in 1992, Guillermo de Andrea was artistic director of Théâtre du Rideau Vert until 2004. He directed Rideau Vert's productions of Hamlet (1999), the world premiere of Antonine Maillet's Le Tintamare (April, 1999) and Jorge Accame's Venecia (March, 2001).
Guillermo de Andrea also directed at Théâtre du Trident (Un Tramway nommé Desir/A Streetcar Named Desire, 1984, La Cerisaie/The Cherry Orchard, 1988); and Théâtre du Nouveau Monde (L'Homme éléphant/The Elephant Man, 1982, and Le Bourgeois Gentilhomme, 1990) among many others.
Andrea has taught at the Conservatoire d'art dramatique de Québec and at Laval University.
In 2004, he was made a Member of the Order of Canada.
Profile by Gaetan Charlebois
Last updated 2019-11-20