Duceppe, Monique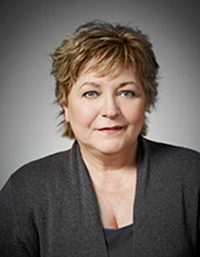 Monique Duceppe
Quebec-based director. She is the daughter of Jean Duceppe, and for forty years has been closely associated with the theatre he founded, Compagnie Jean-Duceppe.
She began her career in 1985, directing Etat civil: celibataire by Wendy Wasserstein. Among other works she has mounted for the company are Haute Fidélité, Vice et Versa, Chacun son tour, Coup sur coup, Harvey, several works by Neil Simon, the 1999 remount of La mort d'un commis voyageur/Death of a Salesman, and the French premiere of Eugene Stickland's Noël de force/Some Assembly Required. In 2016, she directed Les Héros by Gerald Sibleyras, adapted by Michel Dumont, with Dumont, Marc Legaut, and Guy Mignault as three elderly veterans of WWI.
Monique Duceppe has also directed at Théâtre d'Aujourd'hui, Théâtre du Chenal-du-Moine, Théâtre Le Patriote, Théâtre de Rougemont, Théâtre Sainte-Adèle, and Théâtre Beaumont St-Michel. For l'Opéra de Québec she directed Don Pasquale by Donizetti, under the musical direction of Bernard Labadie.
More recently, she has translated two plays for Duceppe: The Pitmen Painters by Lee Hall as Les Peintres du charbon, and Nos femmes d'Éric Assous in 2016.
Profile by Gaetan Charlebois and Anne Nothof.
Last updated 2020-08-12