Desgagnés, Yves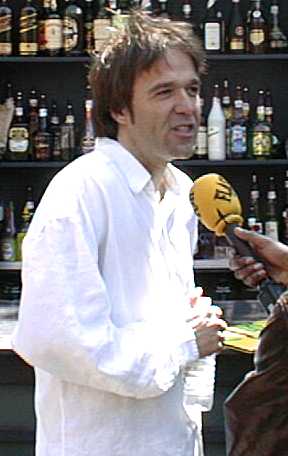 Yves Desgagnes
Director/actor based in Quebec particularly known for his superb stagings of large-cast productions.
As an actor, Yves Desgagnés has performed in many important works including leads in the premiere of Michel Tremblay's La maison suspendue (Compagnie Jean-Duceppe, 1992, directed by André Brassard), Tennessee Williams' La Descente d'Orphée/Orpheus Descending (Jean Duceppe, 1993, François Barbeau), Carlo Gozzi's L'oiseau vert (Théâtre du Nouveau Monde/TNM, 1998, Paul Buissonneau), and Feydeau's Monsieur Chasse (Just for Laughs, 1999, Denise Filiatrault). He has also worked with the Ligue Nationale d'Improvisation from 1979 to 1984.
As a director he has been one of the few who has tamed the cavernous Jean Duceppe Theatre at Place des Arts, particularly with his productions of Bernard Shaw's Sainte Jeanne/Saint Joan and Anton Chekhov's Ivanov. He is also noted for having mounted Michel Marc Bouchard's Le Contre-nature de Chrysippe Tanguay, ecologiste at the National Arts Centre (1983), and the Governor General's Award-winning Syncope, by René Gingras at the Nouvelle Compagnie Théâtrale / Théâtre Denise-Pelletier. More recently, he directed the premiere of M. Gingras's Jacynthe de Laval (January, 2000, Théâtre d'Aujourd'hui), Le songe d'une nuit d'été/Midsummer Night's Dream (TNM, May, 2000) and Ben Elton's Pop-Corn (Just For Laughs, July, 2000).
He has also written for theatre, notable co-authoring Les Nouilles with Louise Roy (Théâtre de Quat'Sous, 1986). He directed his own play, Le nombril du monde, a very popular satire on theatre people, at Jean Duceppe in 1997.
Yves Desgagnés also teaches at the National Theatre School of Canada and acts on television.
Profile by Gaetan Charlebois
Last updated 2020-06-15