Buissonneau, Paul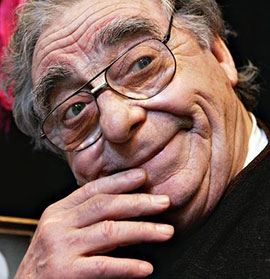 Paul Buissonneau
Actor, director, author, and founding artistic director of the Théâtre de Quat'Sous. Paul Buissonneau was born in Paris in December 24, 1926, died November 30, 2014 in Montreal.
After the early deaths of his parents, Paul Buissonneau struggled to survive in the streets of Paris under Nazi occupation, sometimes by singing and dancing on cafe tabletops. After the war, he joined an itinerant troupe which performed in the ruins of bombed buildings. He then joined Les Compagnons de la Chanson, a backup group for the acclaimed chanteuse, Edith Piaf, touring to New York and Montreal in 1947.
In 1950 he moved to Montreal with his wife, Francoise Charbonneau, and by 1952 he was working for the Montreal parks service as the director of La Roulotte, a trailer/theatre which travelled from park to park presenting plays for families.
In 1956 he founded Quat'Sous and remained its artistic director until 1984, bringing alternative and experimental theatre to a broad audience. During this time, he also worked for other companies as both director and actor. His production of Le Barbier de Séville for television won an international Emmy Award in 1965. But he was perhaps best known in the 1960s for his role of Picolo, a harlequin character in the Radio-Canada television series, La Boite a surprise (1956-72).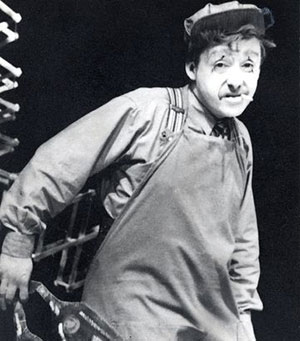 Paul Buissonneau as Picolo
He directed Carlo Gozzi's L'Oiseau vert (1998) at Théâtre du Nouveau Monde and an acclaimed production of Les Chaises/The Chairs at Théâtre du Rideau Vert (2000). He performed a piece based on his memoirs, Comptes de ma mémoire, at L'Écart (Longueuil, Quebec) in March, 2000.
As an actor he appeared in television, film and on stage, including the role of Old Gobbo in the Théâtre du Nouveau Monde/TNM production of Le Marchand de Venise/Merchant of Venice, directed by Daniel Roussel.
Paul Buissonneau was a robust comic actor and an instinctual and assured director. He was instrumental in the development of Quebec theatre, and of theatre artists such as Michel Tremblay, Louise Forestier, and Robert Charlebois.
In 1998, he was awarded a Governor General's Award for Lifetime Achievement; and in 2001, he was awarded the Prix Denise Pelletier.
Sources: Michel Bélair. "Le monteur de show est heureux," Le Devoir, 24 Nov 2001.
James Cullingham. "Thespian was a 'major force' in Quebec arts," The Globe and Mail, 1 Jan 2015: S6.
Last updated 2020-07-17