Infinithéâtre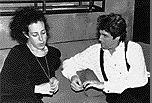 Montreal, Quebec, company founded in 1988 by Clare Shapiro and Marianne Ackerman as Theatre 1774.
The Company's goal was to create projects where anglophone and francophone artists could work together and explore each other's culture. Many of its early projects have been bilingual.
The inaugural production was Echo, adapted from poet Ann Diamond's A Nun's Diary and directed by Robert Lepage. The Company also presented Ackerman's L'Affaire Tartuffe, her adaptation of Shakespeare's Measure for Measure, her adaptation of Strindberg's Miss Julie, and her Blue Valentine among others. The productions were presented in the studio space at the Monument National. Shapiro resigned from the company in 1994; Ackerman in 1997.
Guy Sprung was Artistic Director from 1997 to 2021. He changed the name to Infinithéâtre, with a mandate to develop and produce new Quebec plays in English. Since 2016, the mandate was expanded to include works by Indigenous writers from across Canada. During his tenure, the Company mounted forty world premieres of Quebec plays in English.
The Company went on hiatus in the 1997-98 season, encouraging new writers with a series of workshops and staged readings. In 1998, it announced a packed season in a new venue including works from many local young talents, dance, readings, cabarets and outreach programs. In October 1999, it presented a daring (and largely successful) production of Beckett's Endgame (directed by Sprung) in an abandoned foundry in Montreal's Griffintown. In September, 2001, Infinithéâtre presented Endgame at the Cairo International Festival for Experimental Theatre.
In 2000, in co-production with the Francophone theatre company Omnibus, Michael Mackenzie's bilingual play Farce was mounted as an official Heritage Canada Millennium event at Espace Libre. The following year, Byron Ayanoglu's play Food/Bouffe, was staged at the Lion d'Or, and was a sold out featured event of the 2001 Montréal Highlights Festival. In 2002 Jacob Richmond's Small Returns and Trevor Ferguson's Long, Long, Short, Long were mounted at the Monument National.
In 2003 Infinithéâtre staged a series of workshops for a contemporary anti-war version of Richard III in response to the invasion of Iraq by American and British forces, which was then produced at Manitoba Theatre Centre with William Hurt in the cast. The same year, Guy Sprung's adaptation of George Bernard Shaw's Major Barbara was co-produced with the Saidye Bronfman Centre.
In 2004, the run of Yann Martel's The Facts Behind The Helsinki Roccamatios was extended, and won an award for English theatre in Québec. In 2007, it was featured in the National Arts Centre's Québec Scene, and in 2008 at the Factory Theatre.
Guy Sprung's controversial play Death and Taxes (Saidye Bronfman Centre 2005) was nominated by the French Critics Association as best English production of the season. Carolyn Guillet's Seventeen [Anonymous] Women premiered in the Bain St-Michel. The 2007/08 seasons featured Daniel Danis' Celle-là/That Woman, Jason Maghanoy's Gas and Trevor Ferguson's Zarathustra Said Some Things, No?.
In April, 2018, Infinithéâtre presented Fight On! by Guy Sprung. It considers the possible consequences of a visit to Canada by the third son of Charles Dickens, Francis (Frank) Jeffery Dickens, who was a member of the North West Mounted Police from 1874 to 1885, during the final days of the Riel Rebellion. Performances took place in Espace Knox.
The Pipeline, a developmental workshop and public reading series of plays was inaugurated in 2006 as an annual event.
Infinithéâtre performs in a former swimming pool, Le Bain St-Michel in Mile End, Montreal.
As of March 2021, Zach Fraser is Artistic Director.
Website: www.infinitheatre.com
Last updated 2020-09-11