Ackerman, Marianne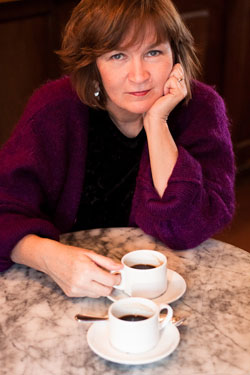 Marianne Ackerman
Director/playwright/journalist born in Prince Edward County, Ontario, in 1952. She graduated from Carleton University, Ottawa, in 1976. She studied at the Sorbonne in Paris, worked at the Ottawa Journal and received her Masters at the University of Toronto in drama in 1980.
As a freelance theatre critic in the 1980s for the Montreal Gazette, Marianne Ackerman wrote extensively about the failure of Quebec's anglophone theatre to reflect the changing political and linguistic landscape. She has won the Nathan Cohen Award for her theatre criticism.
She left the Gazette to launch THEATRE 1774 (see Infinitheatre) in 1989 with Clare Schapiro. Named for an historical fact: that the first theatrical performances after the conquest of New France by Britain were plays by Moliere, performed in French by Garrison Officers of Montreal – the company debuted with Echo, directed by Robert Lepage.
In 1992, THEATRE 1774 premiered Ackerman's L'Affaire Tartuffe, or the Garrison Officers Rehearse Moliere. A sprawling 12-character epic, the play imagines a group of English, Scottish, Irish and Canadien amateurs attempting to stage Tartuffe. They are shut down by Montreal's Catholic Bishop and British commanding officer working together (played by the same actor). Published by Signature Editions, L'Affaire Tartuffe is into its second edition and has been performed in Montreal, Sherbrooke and Toronto.
Her other plays produced by THEATRE 1774 include Woman by a Window, Céleste (a Jewish-franco-anglo story set during Expo '67), and a bilingual adaptation of Miss Julie, set in the Eastern Townships on St. Jean Baptiste day, circa 1929. She also collaborated with Robert Lepage on Alanienouidet, a play about actor Edmund Kean's encounter with the Hurons of Lorette, Quebec, in the 1830s. Later, she wrote Venus of Dublin, a three-hander based on the same story, which premiered at Centaur Theatre in 2000, directed by Gordon McCall. Triplex Nervosa premiered at the Centaur in 2015.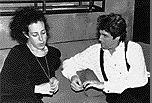 Her last play with THEATRE 1774 was Blue Valentine, a romantic comedy, nominated Best New Play and Best Anglo Production at the Masques Awards, 1998. Guy Sprung took over and transformed the company into Infinitheatre.
In 2020, her Triplex Nervosa Trilogy was published by Guernica, including three plays: "Triplex Nervosa," "Rooftop Eden," and "Famously."
Ackerman has also published four novels, Jump (based on her years in Montreal theatre), Matters of Hart (2005), Pier's Desire (2010, set in Avignon), and Holy Fools (2014).
In 1998, she moved to Avignon, France where she met her husband, Gwyn Campbell. She currently lives in Montreal with her husband. She writes for Walrus Magazine, and is founder and publisher of an on-line arts magazine, The Rover www.roverarts.com.
Readings: Marianne Ackerman. "Anglophone Theatre in Montreal. A Crisis of Vision." Canadian Theatre Review, Spring 1986.
Leanore Lieblein. "Establishing Contact Between Two Cultures; Marianne Ackerman at the Montreal Gazette, 1983-1987", in Establishing Our Boundaries: English-Canadian Theatre Criticism, Ed. Anton Wagner. Toronto: University of Toronto Press, 1999.
Last updated 2020-07-25