Queen Elizabeth Theatre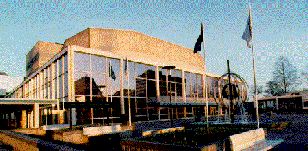 Queen Elizabeth Theatre
Auditorium in Vancouver, British Columbia, built by the city in 1959 to accommodate a wide range of arts events. It is located at Hamilton and Georgia Streets at the edge of the city centre, and designed by Affleck, Desbarets, Dimakopoulos, Lebensold, Sise of Montreal.
The main theatre space seats 2815, and houses the Vancouver Opera and Ballet British Columbia, as well as touring productions (Broadway shows, opera and dance).
Its acoustics are inadequate for orchestral and music performances, and its large proscenium arch (70 feet wide and 30 feet high) is inappropriate for theatrical productions. The complex also includes an art gallery and restaurant.
Last updated 2021-08-23