Arnold, Julien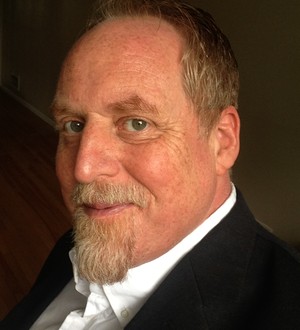 Julien Arnold
Popular Edmonton Alberta actor, director, and teacher, who has appeared in most of the theatres in the city, typically in comic roles for over twenty-five years. With his English parents and grandparents, Julien Arnold lived in Tanzania until he was five in 1969. He grew up in Edmonton, and studied at Georges P. Vanier Secondary School and the University of Alberta, graduating with a BFA in 1989. In 2006, he completed an MFA in directing from the University of Alberta.
For the Citadel Theatre, he played Feste in Twelfth Night (1999); Bob Cratchit for several years, then Scrooge (2017) in A Christmas Carol; in the extravagant musical, Make Mine Love by Tom Wood; and One Man, Two Guvnors, both in 2014. Other Citadel credits include: Sense and Sensibility, Evangeline, Bottom in A Midsummer Night's Dream (Elizabeth Sterling Haynes Award), The Wizard of Oz, Spamalot, and Travels with My Aunt (Sterling Award).
A founding member Free Will Players, Arnold regularly appears in summer productions of Shakespeare's plays, most recently in The Merchant of Venice, and The Merry Wives of Windsor.
He is an ensemble member of Teatro La Quindicina, where he has performed in many of Stewart Lemoineís comedies, including Cocktails at Pamís, The Glittering Heart (1990), Shockers Delight! (1993), Happy Toes (2008), The Ambassador's Wives, The Scent of Compulsion, and The Finest of Strangers (2018).
His portrait of the artist in the Edmonton Fringe Festival production of A Picasso was particularly entertaining and persuasive, and earned him a Sterling Award for Outstanding Fringe Performance by an Actor.
In 2018, he played a failed but indefatigably optimistic vacuum salesman in Slumberland Motel by Collin Doyle (Shadow Theatre). His improvisation of an hilarious balletic pas de deux for man and vacuum cleaner, dressed in a sheet artfully arranged as a toga, was noted as a highlight of the production by Liz Nicholls in her 12th Night review.
Arnold has also performed for Workshop West Theatre; Theatre Network (The Problem Child and The End of Civilization from Suburban Motel by George F. Walker, and A Skull in Connemara by Martin McDonagh); Northern Light Theatre; Mayfield Dinner Theatre (Spelling Bee); and Theatre Yes in the world premiere of Cat Walshís play The Laws of Thermodynamics (2015), for which he was nominated for a Sterling Award for Outstanding performance by a Supporting Actor.
For his own Company, The Atlas Theatre Collective, founded in 2008, he has directed Martin McDonagh's The Lonesome West (Roxy Theatre); Going to St. Ives by Lee Blessing (Varscona Theatre, April, 2018), and Sirens at the Edmonton Fringe Festival in 2018. In 2019, The Atlas Collective mounted Mesa (dir. Patricia Darbasie), in which Arnold convincingly played the role of a ninety-three-year-old widower on the road to Arizona from Alberta with his much younger nephew. In her 12thNight.ca review (Feb 22), Liz Nicholls writes: "Itís a strikingly unsentimental portrait of old age, in all its harsh cut-to-the-chase lack of interest in the new, and resistance to change of any kind. Heís pragmatic, petulant, opinionated, and given to tantrums when crossed. In Arnoldís performance, the contours are softened only in flashbacks, when Grandpa Bud steps out of the car and the ongoing journey, and remembers selected aspects of his life, mostly to do with his late wife and his music hobby."
Profile by Anne Nothof, Athabasca University
Last updated 2019-03-05