MacDonald-Smith, Andrew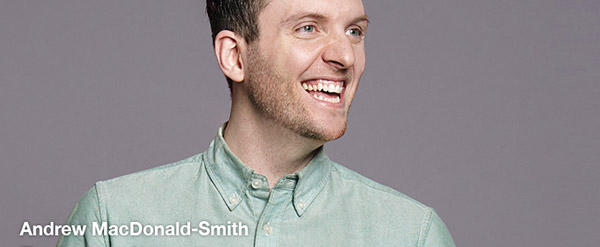 Triple-threat actor, with considerable dramatic reach and engaging personality, based in Edmonton Alberta. Andrew MacDonald-Smith was born and raised in Cochrane Alberta. As a shy child, he often told stories to his parents using puppets, which enabled him to express himself without risk of embarrassment. At Ghost Lake Village's summer regatta and talent shows, he performed lip-sync interpretations of popular songs, and contributed to Cochrane High's music programs that included Sound of Music and Nunsense. He also undertook roles in Shakespeare in the Valley productions of A Midsummer Night's Dream and Much Ado about Nothing; and the Seraph Theatre Company's production of The Tempest.
He is a graduate of MacEwan University's Theatre Arts program (2003).
Since 2005, he has been a company member and associate of Teatro La Quindicina, appearing in a variety of roles, created for him by playwright Stewart Lemoine, including a story-telling adventurer in Pith!, and a confused young man about to be married, recalling his troubled childhood and his infatuation with an English professor in Witness to a Conga (2010). In her review, Liz Nicholls wrote: "MacDonald-Smith is so compellingly believable in every shade of this complexity that your eyes will water" (Edmonton Journal 1 Oct 2016: D5). In Spring, 2017, he appeared in Lemoine's latest screw-ball comedy, Going, Going, Gone ! at the Varscona Theatre. He appeared in and co-wrote with Jocelyn Ahlf the hit Teatro musicals, Everyone Goes to Mitzi's (2009) and The Infinite Shiver (2010). In 2020, he assumed the role of co-artistic producer of Teatro (with Belinda Cornish).
For the Citadel Theatre, MacDonald-Smith played Burt in Mary Poppins (Elizabeth Sterling Haynes Award); Alfie, an ancient, quavering waiter in One Man Two Guvnors (2014, Sterling Award); a scabrous puppet in Avenue Q (Jessie Richardson Award); an hilarious, acrobatic Bobby Child in Crazy for You (2017); and in Matilda. He also performed his show, Never Fully Dressed Without a Band, a tribute to Big Band music and Broadway tunes in Citadel's Club venue (2017).
For Shadow Theatre, he appeared in The Liars; The Best Brothers by Daniel MacIvor (2016); and as a cross-dressing soldier/performer during WWI in The Comedy Company by Neil Grahn. For Belfry Theatre he performed in Puttin' on the Ritz. He has also appeared in Edmonton Opera productions of The Mikado, The Pirates of Penzance and H.M.S. Pinafore; and Mayfield Dinner Theatre productions of Little Shop of Horrors, Shear Madness (2013), The Wizard of Oz, and Forever Plaid (2018). At the 2018 Edmonton Fringe, he played in an hilarious production of The Real Inspector Hound by Tom Stoppard.
He is married to actor and director, Louise Casemore.
Website: www.drewmacsmith.com
Profile by Anne Nothof, Athabasca University
Last updated 2021-09-15